Mellor Old Vicarage Archaeological Dig
In 1998, archaeologists found a Hill Fort surrounding Mellor Church. The Fort dated from the Iron Age, around 500 to 1000 BC, but was later occupied by Romans around 180 AD. Further excavations have discovered flints from Bronze Age and Mesolithic times, which shows that use of the site may go back 10,000 years.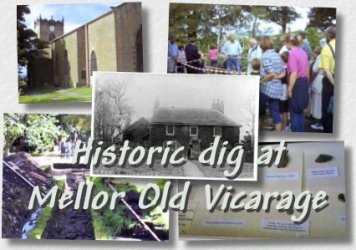 The Marple Website is a keen supporter of the ongoing archaeological works at Mellor and so much information was added to the site over the last few years that we had to create this index page to link them all together. In 2005 the Mellor Archaeological Trust set up its own dedicated web site with massive amounts of information about the dig that is regularly updated. So for the very latest news visit www.mellorarchaeology.org.uk or browse the pages below for some of the history of the site.
The Mellor Archaeological Trust was set up by Ann and John Hearle to help fund the continuing work on the site. If you would like to make a donation, or would like any further information about the Trust or the dig, please contact John and Ann at the Old Vicarage, Mellor, or by e-mail at contact Ann Hearle.