The Marple Website - Fighting To Keep Our Heritage Safe
Heritage Projects Index

Restoration of the Stocks in Memorial Park
Tony Heginbotham enjoyed putting his skills to good use when we rebuilt the dry stone wall on the apprentices route to All Saints' Church last year and he's been keen to get involved again. Earlier this year he rose to the challenge of recreating the wooden sections of the Stocks in Marple's Memorial Park that vanished long ago. Left with only the original hasps, and with no photographic evidence on which to base his design, Tony had to create a convincing replica and devise an effective anti-vandal device to try and ensure its longevity.
| | |
| --- | --- |
| Tony H fits the upper section | Tony G gloats at Peter's misfortune |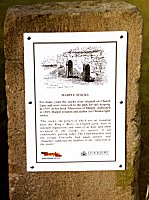 We think he's done a fantastic job and were delighted to assist Tony with the installation on Sunday 16 May 2004. It was very amusing that as he was applying the finishing touches a prime candidate for many local people's vote as to who should be the first to test the working of the Stocks turned up. Local character Tony Green thought it was amusing too but couldn't be persuaded that we would let him out after we'd taken one picture - a great photo opportunity missed!
Along with a new interpretation board, courtesy of the Marple Website and Stockport Council who are both represented on the committee of Friends of Marple Memorial Park, the Marple Stocks are now a great attraction for young and old (what a pity they can't be put back into their original use!!!).
Over the years Memorial Park has become a gathering place for items relating to Marple's Heritage. It is one of the aims of the Friends of Marple Memorial Park to bring these items back to the condition they once enjoyed and to look after them for future generations.
A representation of the interpretation board:
MARPLE STOCKS

For many years the stocks were situated on Church Lane and were removed to the park for safe keeping in 1959. In his book 'Memories of Marple", published in 1899, Marple resident and author Joel Wainwright wrote:

" The stocks, the pillars of which are yet standing near the Ring o' Bells' in Church Lane, were in constant requisition, and some of us have seen them occupied by the village sot, quietly, if not comfortably, getting sober. The Churchwardens and the village Constable had equal powers, and frequently subjected the fuddlers to the correction of the stocks."