| | |
| --- | --- |
| Feedback from Readers - February 2001 | Index |
The following item accompanied the article about Joe Goodwin featured in the February 2001 issue of the Community News in our regular feature "Local History & Heritage with the Marple Website" The drawings of the belt and fastening were not reproduced in the paper.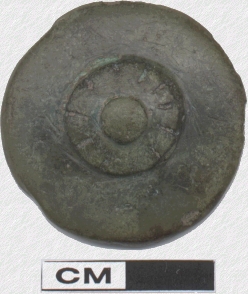 Ancient Artefact found in Marple field
Another interesting response to our history and heritage articles has come from Stuart Peers of Stockport who got in touch after seeing them on-line. Stuart's hobby is metal detecting and early in the year 2000 he made an exciting discovery in a South Marple field.
Stuart was searching on local pasture land with permission from the owner when he discovered what he now knows to be an ancient 14th - 15th Century belt fastening. It was identified when he showed it to Nick Herepath, the Portable Antiquities Officer for the North West of England based at Liverpool museum.
Nick was able to provide a detailed illustration of an almost identical item in a Medieval Dress catalogue, showing how the fastening would have adorned a very thick and heavy leather belt. The fastening is made of a bronze alloy and would have incorporated an iron rivet in the rear but this has rotted away in antiquity.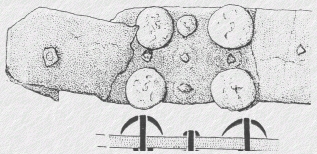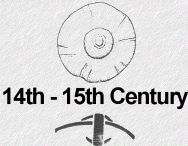 This great find is currently on loan for display in the Stockport Heritage Centre at the rear of St. Mary's Church near the market place in Stockport. The centre is normally open on market days. We would like to think that one day it could be displayed in a Marple Heritage Centre!
Stuart has been interested in metal detecting for around seven years and says that he has learnt far more about history during this time than from any History lesson at school. His other finds from across the North of England include a 17th Century Gold posy ring, a Bronze Age Axe c1500 B.C., numerous coins from Victorian and Medieval periods and as far back as a Roman silver Dinarius of Mark Anthony.
Stuart will be returning to the same Marple field in the near future and has promised to let us know if he makes any interesting new discoveries. We wish him luck and hope to be able to add to our virtual display here.
As always, if you have anything interesting to share please get in touch.