| | |
| --- | --- |
| Marple War Memorial | Marple Website Homepage |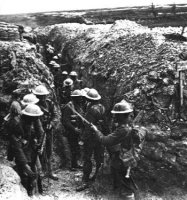 In Aug. 1914 on the outbreak of war, along with the rest of Britain, Marple sent its young men to serve King and Country. During the next four to five years around eight hundred took up arms. Many of them would return with horrific injuries, one hundred and forty-one were destined never to return. Following the war it was decided to raise money by public subscription to honour the memory of these men. After considering various options the committee, comprising of local councillors and dignitaries, decided that the best option would be a memorial park complete with a carved cenotaph. The Carver and Barlow families, who owned land in the centre of Marple, donated a large part of this and offered the remainder at a nominal price. The grounds were laid out with tennis courts and a bowling green for the citizens of Marple to use. The memorial itself was carved from grey marble and the names of the fallen etched in gold. Following the Second World War the memorial was enlarged to allow another fifty names to be added.

Today, except for the tennis courts which are no longer used, the park is well maintained. The bowling green is still a much-used facility with probably the finest views in Marple. The memorial cenotaph still looks toward the cross at Cobden Edge and is the focal point of the Remembrance Sunday services each year, ensuring that the collective sacrifice of lives made in two World Wars are honoured and remembered.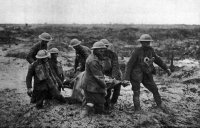 It seems inevitable though, with the passing of so many years, that the individual detail of the lives and deeds of these brave young men have gradually faded from memory. As relatives die or move away and the survivors of those times are diminished by age, there are few left who can remember first hand who these men were. There is a very real danger, in towns and villages across the country, that the inscriptions on many war memorials will become only a list of names, forgotten people with histories lost in the past. Thanks to the special bravery of one dead man and the curiosity, dedication and determination of three living, this danger has been averted for the fallen of Marple.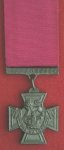 In July 1996 three local firemen noticed that John S. Collings-Wells had the letters V.C. D.S.O. after his name on the memorial. This signified that he had won the Victoria Cross, the highest possible award for bravery in battle and the Distinguished Service Order. Curious to know how these awards had been earned they embarked upon an investigation, without realising where it would lead. Their initial curiosity satisfied, they started to search for details about some of the other names on the memorial. On discovering that it was possible to trace these men's stories if enough effort was applied, it soon developed into a consuming passion, occupying most of their spare time. This quest for knowledge lead to trips as far and wide as Chester, London and the battle fields of France, as well as uncountable hours in local record offices.
Their success was such that they traced the details of each and every man commemorated on the Marple War Memorial, who fell during the First World War. This is despite the one hundred and forty-first being added on 22 May 1999, only weeks before their printer's deadline. The names have now become "their men" and they talk of them as old friends and comrades. Their devotion to the task has culminated in the publication of the book REMEMBERED commemorating the lives of these Marple men and released on Armistice Day November 1999, to ensure they are now never truly forgotten.
Having spent four long years researching their first book, the authors could have been forgiven for resting on their laurels. However, Jon and Peter were unable to shake off the feeling that the job wouldn't be finished until they had paid similar tribute to the men of Marple who fell during the Second World War. Fittingly, on 10 July 2005 - National Commemoration Day - the pair released their new book, World War II Remembered. This chronicles the lives and untimely deaths of these 50 men, and ensures that they will be remembered too.
The tables below list all the dead commemorated on the Marple War Memorial. Clicking on John S. Collings-Wells' in the WWI table will show you an extract from the first book.
The WWI book "Remembered" is now out of print. There are copies in Marple Library and they occasionally turn up on Ebay.
For additional information on John S. Collings-Wells and other winners of the Victoria Cross visit the Victoria Cross Reference, part of the Wikipedia Encyclopedia.
ADSHEAD Herbert
MYCOCK Edward
ALLEN Frank
NEALE Oswald
ARCHER John
NORBURY Allan
ARDERN Joseph
ORFORD Charles R.H.
ASHTON Robert
PHILLIPS Benjamin
ATKINSON Fred
PHILLIPS George
AUSTIN Leonard
PICKFORD Fred
AUSTIN William
PICKFORD Raymond
BAGSHAWE Geoffrey
FOWLER Edward
PLATT Horace
BARLOW Harold C.
FROST Harry
PLATT Samuel
BARNES William
GARDINER Fred
PLATT Thomas
BARTON Colin
GODDARD William
PROCTER Stanley
BATES Carlos B.
GREAVES Norman
RHODES Arthur
BELL Joseph
GREENHAIGH Ernest
SMITH Bertram
BENNETT Ernest
GREENWOOD Wilfred
SPEAKMAN Richard
BENNETT Josiah
HAUGE Joseph
SPEAKMAN Robert E.
BROCKLEHURST G. Bowden
HALL Dennis
STOTT Wm. Arthur
BROCKLEHURST Sidney J.
HALLAM John W
SYLVESTER Harry
BROOM Alan
HALLWORTH Herbert
TAYLOR G. Frederick
BROWN John
HAMPSON John
TAYLOR Granville
BUDENBERG Donald H.
HARDY Jack
TAYLOR William K.
BURRELL Joseph
HARGREAVES Frank
TEFFT John
BURTON Harold
HARTLEY Bernard H.
THELWALL Frederick
BRADWELL Frank
HAYES Arthur
THELWALL Samuel
BYROM Clarance
HAYES John W.
TOMLINSON Arthur M.
CARVER Basil
HOLLAND Joseph
TOTTERDELL David
CARVER Oswald
HOOLE Arthur
TRUST Ernest H.
CHANEY Wm. Herbert
HOPWOOD Fred
TRUST Ernest H.
COOKE Harold
HOPWOOD Walter
RIDGWAY Stanley
COOPER Harold
HOWARD J. Leslie
RILEY Fred
COOPER William
ISHERWOOD F.E. Bradshawe
ROBINSON Leonard
CRESSWELL A. Gordon
INGHAM Charles H.
SHARPLES J. Everatt
DAWSON Frank T.
JACK J. Edward
SHARPLES Norman
DEAN William
JOHNSON Cyril B.
SINCLAIR Kenneth
DIXON Robert C.
KERSHAW James
SLATER Charles E.
DUDDY Joseph
LEIGH William
WALTER Raymond
DUXBURY James
LLOYD Fred
WARBURTON Stanley
DUXBURY William
MACKERETH Egbert
WARD William E.
EUSTACE John
MATHER Roland
WARNER Thomas G.F.
FARMER Arthur J.
McDERMOTT Joseph
WILLSHAW Sydney
FERNLEY James
McLAINE Donald
WELLS John S. Collings
FERNS Albert
MILLER Benjamin
WOODCOCK Walter C.
FIELDING George
MILLER George W.
WOODHOUSE Henry
FIELDING John
MORGAN Alec
WRAY Thomas
FLETCHER Walter
MORRIS Burt
YARWOOD Richard
FLINT Walter

The Marple Dead of World War I

YOUNG Edmund Turner
FORTH Charles
YOUNG Malcolm H.
BASNETT William
PICKFORD Henry
BATTERTON Fredrick Raymond
PORCHER Frederick Charles
BEARD Cyril
RICHARDS Donald Arthur
BIRD Anthony Goulding
RIDINGS John Joseph
BLEAKLEY Ronald Miles
ROBINSON Leonard
BRIDGE Godfrey
SHAW Kenneth
BROWN Rowland
SHAW Thomas
CLARKE David
SHELDON Cyril Arnfield
COCKS William
LONGDEN Thomas
SHUTTLEWORTH William
DIXON Thomas Stanley
MACNAB Peter
SKELLERN Tom
DOWNS Frank
MALLETT Charles Lucas
SMITH Robert
GIBSON Albert William
MCMILLAN Donald
SOWERBY James Handley
GREEN Thomas Edward
MESSENGER Ernest Paul
TAYLOR William
HAYNE George William
MOTTERSHEAD Robert Kenneth
TEW Harold Philip
HAMMAN Anthony Creighton
MYCOCK Leslie
TYRELL Harold Francis
HAZELHURST John
NIELD Frank Knowles
WALKER John (Jack)
HEATH Alfred
OLDHAM Edwin
WALKER John Keith
HIGGINBOTHAM Alan
PARROTT John Charles
WHALLEY George
HOLLAND James

The Marple Dead of World War II

WILSON Gordon Albert Charles
KIRK Samuel
WOOD Thomas