| | |
| --- | --- |
| Joe Goodwin - A Marple Hero | Index |
This article, by Peter Clarke, appeared in the February 2001 issue of the Community News in our regular feature "Local History & Heritage with the Marple Website"

This reproduction of the article includes a picture of Joe's watch that was supplied to the News but not included, presumably due to space constraints.

The feedback article that accompanied this is on a separate page.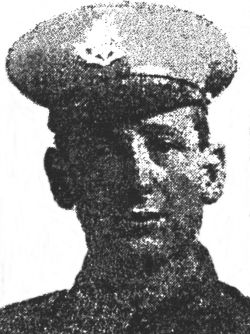 Joe Goodwin
A MARPLE HERO
Patrol duties, in the front line, during the Great War were a very hazardous occupation and it was with this in mind that Joe Goodwin accompanied his officer and corporal over the parapet and into no-mans-land on March 18th 1916.
It was a bitterly cold night and the men had to pick their way silently towards the enemy line in the pitch black in the hope that they might see or hear something that may be of use to British intelligence. At any time a shell or bullet could strike and it was a most frightening experience. The enemy of course carried out the same kind of forays, and there was always the danger of bumping into one of these or one of the working parties that both sides sent out each night to repair or install new defenses. It was indeed one of the German working parties that Joe and his comrades stumbled into this ill-fated evening.
The German's were 20 strong and the British lads had no chance, soon they were on their way back towards the German line with the prospect of seeing out the war as a prisoner. Suddenly Joe remembered that he still had in his pocket some bombs that he had brought on the orders of his officer and thinking only of escape he threw one in amongst the German's. This had the effect of putting around eight of the enemy immediately out of action and in the ensuing confusion the three prisoners scattered and ran back towards enemy lines.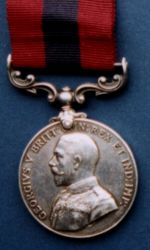 Joe's D.C.M.

Just as Joe thought he had got clear a big German wrestled him to the ground and in a fight for his life Joe was finally able to get the upper hand by using his knife to dispatch his attacker and again make good his escape. But his troubles were not yet over for he had lost his bearings and in a landscape devoid of any recognisable features and in temperatures well below freezing, he wandered, desperately trying to find the British line. When, 4 hours later, he eventually found the line it was all he could manage to drag himself into the safety of the British trench. He became very ill and had to be repatriated to England where he was eventually to recover in Glossop Military Hospital.

Joe's comrades also managed to reach their own trenches and following the officer's report Private Joseph Goodwin of the 1

st Battalion Cheshire Regiment was awarded the Distinguished Conduct Medal for his actions on that night.

Joe Goodwin could have been justly proud of his award but that was not to be the end of the matter. Joe was the son of Rachael Goodwin of Dooley Lane, Marple, he had grown up here and was well known in the area. When Marple Urban District Council heard of his heroic deeds a collection was made amongst the citizens of Marple and a gold watch purchased and engraved and in due course Joe was invited to attend a ceremony at the council chambers where he would be given a special award. When all were present the Chairman of the council, Councillor A. Hirst, rose from his seat and addressed the gathering.

"On behalf of the council and myself I am very pleased to welcome you here, to shake your hand and to congratulate you personally on the deed of heroism which won you the D.C.M. By that deed you not only brought honour to yourself, but also conferred honour on your native village. The council decided to mark their appreciation of that honour in a fitting way. A committee was elected which easily collected sufficient money to enable them to present you with this handsome gold watch and gold watch guard. The watch bears the following inscription:
| | |
| --- | --- |
| "Presented to Private Joseph Goodwin, 1st Cheshire Regiment by the citizens of Marple, to commemorate his having won the D.C.M. 12th March 1916." | |
It gives me the greatest possible pleasure to present it to you. I trust you will be long spared to wear it. (a shout of Hear, Hear from the gathering) and that it will be a faithful friend to you. I hope that you will be able to show it as a recognition of what you have done. Perhaps you will be called up to act again under similar circumstances and no doubt if you are you will again prove yourself a brave and resourceful soldier, (Hear, Hear) I have the greatest pleasure in presenting you with this watch and chain on behalf of the people of Marple."
Joe's nervous and slightly repetitive reply gives an indication of what it must have been like to be an ordinary, working man caught up in such momentous events.
"I must thank the committee and the public of Marple through the council for being so kind as to present me with these handsome presents. I shall always look at it with pleasure, and when the war is over, if I am spared, it will be a reminder of what I have done. (Hear, Hear). Of course there are a lot of poor fellows who deserve honours and do not get them, I wish we could all have them. (Hear, Hear and applause). Of course, it was my luck to get into a tight corner and to earn a little honour. Of course, I got away alright and am pleased. I appreciate the great reward and your kindness, I thank you all very much." (Applause).
Councillor Smith then stood to tell the assembly that they were especially proud that one from their own soil had won this distinction and that in winning honour for himself he had shed lustre on Marple.
Joe did indeed survive the war but like many of his contemporaries, the effect of the horrific conditions that men in the front line trenches had to endure was to dramatically shorten his life and tragically he died in 1934 aged only 44 years.
Joe's family still live in Marple and there is still a tradition of army service, his grandson is at this moment a serving member of the armed forces, and they are justly proud of Joe and his actions. The watch & chain and the D.C.M., along with his other service medals, are still much valued family heirlooms and quite rightly so for Joe's bravery, 84 years ago, brought a little pride to a village that, like the rest of Britain, was in desperate need of heroes.
I would like to thank the Goodwin family for their assistance in the production of this article.
Feed Back Item accompanying this article in the paper.