MARPLE QUAKER MEETING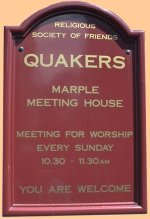 WHAT IS A QUAKER MEETING?
Quakers believe that all people can have direct experience of God. We find that in our Meetings for Worship we can meet with God in silence and in spoken contributions. We can be empowered by this experience to find peace, and strength for our work in the world. Worship is not separate from, but part of, our daily lives. We make no distinction between the sacred and the secular as we try to live our convictions in the here and now.
For details of Marple Quaker Meeting and other Quaker Meetings in the area please go to:
Try to live so that you can respond to that of God in those you meet, and in yourself. Seek to know in your inmost heart that each human being is unique, precious, a child of God.
This web page is provided free of charge by The Marple Website