Marple Community & Shops are under threat - say NO NOW!

Marple in Action needs your support:
Persuade the College that there are alternative uses for the site.

Stop a supermarket buying the land and sitting on it until they gain planning permission by showing that public opinion is against it NOW before it gets to planning application stage.

Keep our local shops because if we lose them we lose part of our community.

We would urge you to sign up to the petition and write to the College, MP, Councillors and Stockport Planning Department.
Attend public meetings and join in our protest
Marple Area Committee was so overwhelmed by the number of people attending the meeting on Wednesday 27 July that they had to move it outside into the park but even so we need more support. Keep your eye on our latest news page and the Marple Community Forum for details of public meetings and protests.
Offer specialist help
Marple in Action has a number of technical and professional people working behind the scenes to oppose CAMSFC plans to sell the Hibbert lane campus to a supermarket chain. There is much to do, and we can use all the help we can get, so if you have related skills, expertise or knowledge and would like to help please get in touch using our hotline number or email your contact details to
Display our poster in your window or garden
Wherever you live but especially if you live near to the college. Download a poster yourself here.
Write letters and emails voicing your objections in your own words
Personal letters explaining how a giant supermarket on Hibbert Lane would effect you and your own personal views about this matter will have far more impact than standard letters. However, we will provide some guidance to help you if you need it.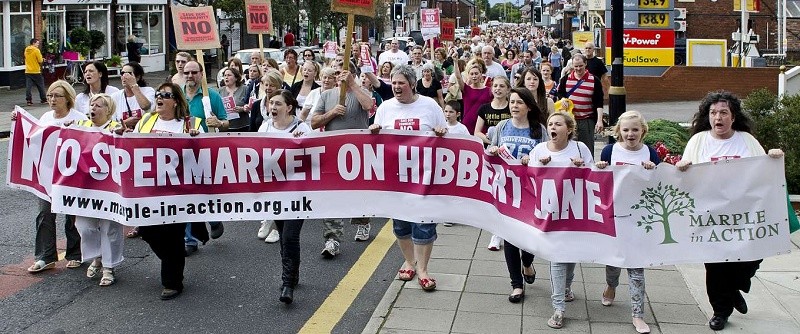 Write to the College Principal and the Board of Governors.
We do not have private addresses for for the Governors so write to each c/o the college marking the envelopes "Private and Confidential":

CHEADLE & MARPLE SIXTH FORM COLLEGE
Marple Campus
Hibbert Lane
Marple
Stockport SK6 7PA

Governors
(as originally published on the CAMSFC web site)
Lawrie Grant Chair


Trevor Jones Deputy Chair
Christina Cassidy Principal
Adrian Clare Governor
Ian Doughty Parent (Resigned?)
Stephen Downs (Resigned in protest at College's plans)
Sandra Dunn Staff
Anand Dutta Governor
Mike Gledhill Governor
Margaret McLay Governor (Resigned?)
Phil Masey Student
Karen Moore Governor
Ian Powell Staff
Richard Young Governor

Write to our local MP:

Andrew Stunnel MP, House of Commons, London SW1A 0AA,
enquiries@andrewstunnell.org.uk
or http://andrewstunell.org.uk/en/contact/constituency-office

Write to our local Councillors:

Councillor Shan Alexander
1 Crown Street
Hawk Green
Marple
SK6 7JH
Phone: 0161 427 4419
Fax: 0161 449 8095
Email: cllr.shan.alexander@stockport.gov.uk

Councillor Andrew Bispham
5 The Close
Marple Bridge
Stockport
SK6 5HB
Phone: 0161-427-1786
Email: cllr.andrew.bispham@stockport.gov.uk

Councillor Martin Candler
38 Turncliff Crescent
Marple
Stockport
SK6 6JP
Phone: 0161-427-6824
Email: cllr.martin.candler@stockport.gov.uk

Councillor Susan Ingham (Chair)
3 Badger Close
Marple
Stockport
SK6 7LG
Phone: 0161 449 9484
Email: cllr.susan.ingham@stockport.gov.uk

Councillor Craig Wright (Vice-Chair)
10 Manor Road
Marple
Stockport
SK6 6PW
Phone: 0161 449 7354
Mobile: 07790 539826
Email: cllr.craig.wright@stockport.gov.uk

Councillor Kevin Dowling
99 Station Road
Marple
Stockport
SK6 6PA
Phone: 07876-568902
Email: cllr.kevin.dowling@stockport.gov.uk