| | | |
| --- | --- | --- |
| Bridge No. 16 | Bottom Lock (No. 1) | Lock No. 2 |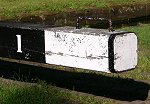 Bottom Lock is the first in Marple's flight of 16 locks that raises the canal a total of 209 feet to its highest level at Top Lock, nearly one and a half miles away. Each lock raises the water level by approximately thirteen feet. These locks are said to be the second deepest in the country, the average being only seven feet deep.
View of Lock
These before and after photographs of Lock 1, taken from the 1967 Marple Rally of Boats programme, illustrate how badly the condition of the locks deteriorated during years of neglect in the 1950s and 60s.
| | |
| --- | --- |
| Before | After |
Alongside Lock No. 1 is a private house called "Bottom Lock House", which was originally the Wharfinger's house. He was the official responsible for the maintenance and smooth operation of the locks, rather like a station-master on a railway.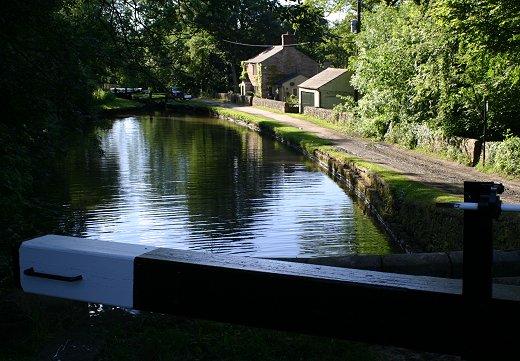 Compare the scene as it is today, taken from the locktail bridge at Lock 2, with the old postcard below postmarked 1908. Aqueduct House can just be made out in the distance.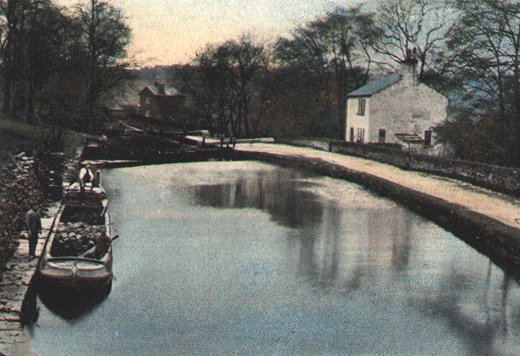 Where the boat is moored on the bank opposite Bottom Lock House in the postcard was the first of two railway sidings adjoining the canal. This siding, and the second one above Lock 2, were both built to transport materials while the railways were being constructed. It was decided to keep them when construction was finished because they had proved so useful and the line was called the Marple Wharf Branch, giving its name to Marple Wharf Junction where the Rose Hill and Macclesfield line branched off. The siding above Lock 1 was higher than the canal, so it was easy to load from a wagon into a narrowboat, whilst the one above Lock 2 was at the same level to aid transfer in either direction. The branch fell into disuse as canal traffic declined and was eventually taken up in 1900, although there are still traces of it above Lock 2.
| | | |
| --- | --- | --- |
| . Bridge No. 16 | Bottom Lock (No. 1) | Lock No. 2 |
This page is part of the Marple Locks Virtual Tour