Marple Locks - Virtual Tour Introduction
There are a number of web sites with "virtual tours" of the canals, including several covering the Peak Forest and Macclesfield Canals that run through Marple. Most of these follow a particular canal from end to end using a series of photographs taken along the route, accompanied by short captions. Rather than try to compete with these other sites on the same level, this tour attempts to complement them by just concentrating on the short but extremely attractive stretch of the canal as it passes through Marple.
The object of these pages is to focus on the history and points of interest along the one-and-a-half-mile stretch of the Peak Forest Canal as it travels from its Lower Level at Marple Aqueduct, rising up 209 feet through a flight of 16 locks, to reach the Upper Level at "Top Lock".
Marple's locks can be approached from two main directions by the narrow-boater. From the direction of Hyde, Woodley and Romiley on the Lower Level of the Peak Forest Canal (point C on the map), or from Bugsworth, Whaley Bridge, New Mills and Disley on the Upper Level (point B). Alternatively, the Upper Level can also be approached from the Macclesfield Canal (point A), which starts in Marple at its junction with the Peak Forest Canal.
Visitors travelling to Marple by car will find plenty of places to park a short distance from the canal. If you are hoping for refreshments during your visit, the car parks at the Ring O'Bells and Navigation Pubs are most conveniently situated and you will also enjoy a warm welcome and good beer. If you visit as a result of reading this, please mention it to the Landlord!
This page is part of the Marple Locks Virtual Tour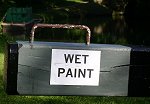 I first started work on this feature of the site in 2002 but with no deadline to complete it the task has always been pushed to the back of the queue. When The Marple Website, and Peter in particular, became involved in organising a celebration of the Bi-centenary of Marple's Locks an obvious tie-in and a ready-made deadline developed.
Unfortunately (for this feature) we've been so busy this year that I've still not had sufficient time to dedicate the effort needed to complete the tour to my satisfaction. With the choice of 'missing the boat' completely or 'publish and be damned', I've opted for the latter and decided to announce the tour with one week to go until the celebrations.
I hope visitors will still enjoy it, even while it's not finished, and I'm happy to take any comments or criticism that you care to throw at me. Obviously I'll be doing my best to complete it as soon as possible!
Mark Whittaker mark@marple-uk.com