| | | |
| --- | --- | --- |
| Lock No. 8 | Bridge No. 17 | Lock No. 9 |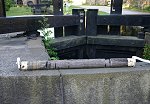 The A626 crosses the canal over Bridge number 17, between Lock 8 and Lock 9. The road was know as Back Lane or Turncroft Lane until the coming of the railways, when it was changed to Station Road.
The official name of the bridge is "Brabbins Change Bridge" and the towpath changes sides here, although it is not a roving bridge, so the horses would have had to be untethered and the boat manhandled under the bridge using steps and a narrow ledge provided for this purpose. There is a roller on the top of the bridge on the Lock 9 side (see picture above) that was fitted to prevent the trailing rope cutting deep grooves into the stonework as the horses crossed diagonally over the road.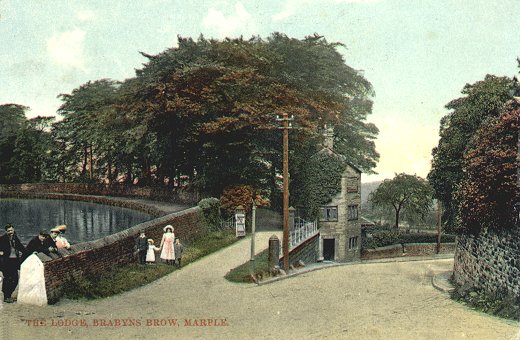 Immediately alongside the bridge is Brabyns Lodge, which was formerly a lodge to Brabyns Hall and is now a listed building. It is an attractive and unusual design and has long been a favourite of visitors to Marple, as can be seen from the marvellous old postcard above. The scene has not changed greatly, although the road is obviously far busier now. The present-day picture below is taken from one of our Open Cards.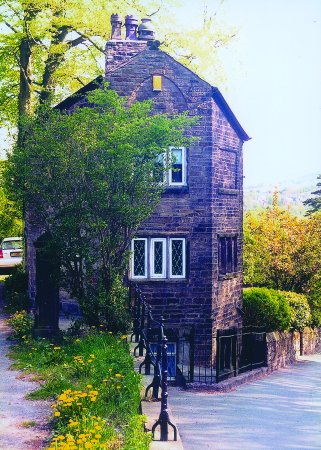 The section of road running downhill from the bridge is known as Brabyns Brow. It runs past Marple Station and St. Martin's Church and continues past the entrance to Brabyns Park and on to Marple Bridge. At the turn of the last century the road was much steeper and narrower and became known for being "dangerous to man and beast" due to the number of accidents that occurred here.
| | |
| --- | --- |
| View down Brabyns Brow | One of many accidents |
This view of bridge 17 from a scan of an old postcard is not of great quality but it's very interesting in that it shows how popular the area was for visitors - there seem to be people everywhere. You can also see in the background the crane by Oldknow's Warehouse and this is the only photograph we've seen that shows this.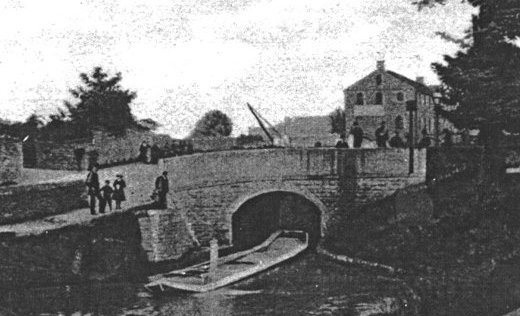 | | | |
| --- | --- | --- |
| Lock No. 8 | Bridge No. 17 | Lock No. 9 |
This page is part of the Marple Locks Virtual Tour