Marple Local History Society has had its own page on The Marple Website since it began in 1998 and we have cooperated in many different ways over the intervening years. In particular with the Iron Bridge Restoration Project, The Virtual History Tour of Marple and Mellor Heritage and Archaeology Projects.
In September 2012 The Marple Website was pleased to design, host and help the Society launch its own web site, which is now by managed by the Society's own members.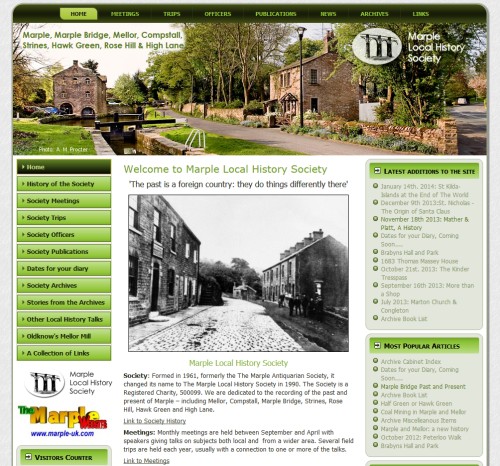 Marple Local History Society was formed in 1961 as The Marple Antiquarian Society and changed to its present title in 1990. Members meet on the third Monday in the month from September to April at the Evangelical Church on Queen Street, Marple.
The meetings invite speakers on various subjects of local interest or from further afield. In July there is a Cheese and Wine evening at Mellor. During the summer two or three coach tours are organised to places of interest where specialist guides meet us.
The Society holds extensive archives of local and regional interest and is constantly adding to them. Many of these are donated by local people but some arrive from as far away as the U.S.A. The archives are presently stored at Mellor but the committee hope to move them to Marple and is actively looking for suitable accommodation. The Society is also in the process of sharing pictures from its archives with the community via the Marple Website's Virtual History Tour of Marple.
Annual subscription for the Society is £10 and visitors may attend talks for £3. New members are always welcome.
The society's money is used for publishing books, mounting exhibitions, acquiring and keeping archives. Meetings are advertised locally. Anyone can attend one meeting as a visitor or join the society. Many people hear of the society through seeing one of the exhibitions. The local library holds an index to the society's archives and passes on questions from the general public.
Ann Hearle - Chair, Marple Local History Society