This is the Community Website of Marple in Cheshire, a small town near Stockport and Greater Manchester in the United Kingdom. Its purpose, in addition to providing useful information to local people and potential visitors, is to try and contribute to the community spirit. It can hopefully do this by inter-action with other interested Web users and by gaining enough feedback and support to shape it into a useful service.
This web site has developed from an initial urge to learn how to make use of the free space offered by my Compuserve account several years ago. I started off in the usual way, playing around with family photographs and hobbies and soon realised that the most, in fact the only important thing on a web site, is content. I was never going to create an interesting site about an ordinary family of four from Marple that people would want to visit.
I hit on the local theme after a friend mentioned a site he'd seen for Northwich in Cheshire. There was nothing like this for Marple or any of the surrounding areas, so I decided to give it a try. I didn't realise at the time how interested I would become in Marple and its local history or how many helpful people I would find who were willing to contribute. I am also pleased to say that I have made many new friends as a result of these pages, both locally and around the world.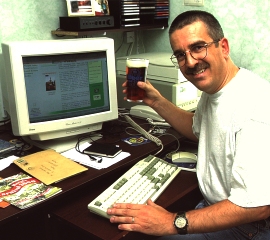 The first major outside contributor to the site was retired printer Gordon Mills, who generously allowed me to reproduce his series of guides 'Walks Around Marple', even though it could result in reduced sales because visitors can print them out for themselves at home rather than buy them. Gordon was soon followed by local photographer David Brindley, whose fine collection of local prints enhances the site and gives visitors a glimpse of the attractions of Marple and the surrounding areas. These two features, plus my own growing compulsion with local history and Marple Hall in particular, formed the backbone of the site as it is today. Others who have also given me their support and encouragement, or made significant contributions to the site so far are listed below.
Since its conception my main drive and encouragement has been the feedback that I receive from visitors by e-mail or in the guestbook and the gradually growing awareness by the local community of the site's existence. The new Discussion Forum and Notice Board is starting to attract increasing traffic with some interesting and sometimes argumentative subjects being debated. It is my hope that this will eventually grow to become a major vehicle for local people to air their views and for local authorities to listen and reply. That is probably some way in the future.
I would welcome any contributions and articles on local history and attractions or other matters of interest to the local community.
If you enjoy what's here please leave a message in the guestbook. If you have a Marple related site which you would like me to add to the links, if you would like to know more about the features or services on offer, have any suggestions, or would like to discuss any other matters relating to this community site please get in touch.
Mark Whittaker
Thanks and acknowledgments are due to:
Gordon Mills, David Brindley and Jack Turnbull, Peter Clarke, Andy Cook and Jon Bintliff, Ann Hearle and the Local History Society, Christopher Thompson and Charlie Emmett, Bill Ardern and the Marple Carnival Committee, Adrian Taylor, Tina Clarke, Cliff Ranson, David Bennett, Mary Greenwood, Hosting4u, everyone associated with Bunbury Church in Cheshire, Cheshire Life Magazine and Gill for accepting her role as frequent computer widow.
Some sources & references used during the construction of this site:
The Peak Forest Canal: Its Construction & Later Development by Olive Bowyer 1988 New Mills Local History Society.
The Peak Forest Canal Marple to Whaley Bridge by Edward L.Hill - Gordon Mills & Co.1966
The Peak Forest Canal and Tramway by Brian Lamb - 1976.
"Remembered" - P.Clarke/A.Cook/J.Bintliff - 11 November 1999.
The History of Marple & District - Marple Local History Society - Rapidprint 1993.
"Your Guide to Marple" - Marple and District Chamber of Trade Official Guide 1991.
A Short Guide & History of Marple Hall - H.Cotton, printed by the Author at Marple Hall 1934.
An Invitation to Marple Hall - Anne Bannister - Gordon Mills & Co. 1971.
Marple Hall, Bradshaws & Isherwoods - Anne Hearle - Marple Local History Society 1996.
A Short History of Marple Hall from 1606 - Compiled by F.Tunstall from notes by Henry Bradshaw-Isherwood - G.H.Bailey printer.
Marple Township - Reprinted from East Cheshire Past and Present by J.P.Earwaker M.A.,F.S.A (1880) - Reprinted by Gordon Mills & Co.
Further sources are acknowledged on the relevant pages.