| | |
| --- | --- |
| Recollections of a Village (Hawk Green) - Part 2 | Index |
Alan Proctor is a well-known local character - once met never forgotten. He wrote the first draft of his recollections of Hawk Green in 2005 and I wanted to publish them at the time but they were (rightly) featured on the HGRA web site, so I linked to them instead. As the HGRA site has subsequently gone off-line, Alan has agreed to them being reproduced on The Marple Website so that they can be shared with the wider community, as they should be.

Here's Alan's introduction, in his own words: You don't know what you've got till it's gone. I didn't appreciate the place until my later years, I simply took it for granted. Now I realise just how singular it is in many ways. Industrial, farming, golf club, cricket club, its own brass band, a fine hostelry, a post office, two chippies and many other features. And not least our proximity to some great scenery and tourist spots. Well, like many others, Joan and I will not be moving. "except," as she says, "in a box." Alan and Joan Proctor Born and Bred in Hawk Green.

Recollections of a Village Part 2 by Alan Proctor (first written circa 2005)
(illustrated with images from the Virtual History Tour of Marple)
with thanks to Ray Noble for many of the images used.
Personalities
In the Reading Room there hung a large framed portrait (photograph of a handsome uniformed Army Officer complete with moustache and 'Sam Browne' (leather adornment). I often wondered who this could be and what could be his connection to the Hall. Well it transpired that he was a Lieutenant Barlow from 'Woodville' (House) who died in the 1914-18 War. The family who lived for many years as local monied Gentry in the splendid Victorian 'Pile' were involved in local affairs, giving their support (and name) to various groups, though how much 'finance' is unknown. The classically framed picture was sold to a local man, Cliff Hill with the tag, "Frame £3.00!!" during a clear out by a newly formed Committee. No mention of its provenance! However, upon reading a 'Village Recollections' in 1999 Cliff approached me saying that he thought he might have the said picture. Sure enough it was the Missing Treasure. A local piece of history, which might well have been lost. A further example of why we must strive to save memories and artefacts for our successors.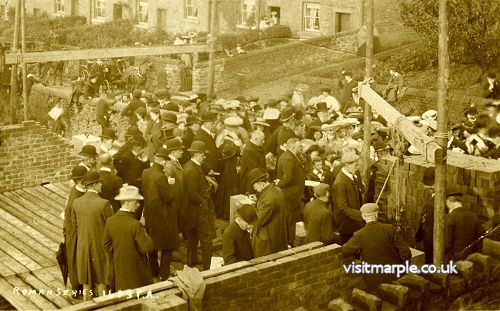 Laying of the foundation stones for Hawk Green Reading Rooms in 1906.
Provided by Mrs. Selma Fielding.
We now know that Lt. Barlow was a navigator/gunner shot down in France by Baron Von Richtofen, The Red Baron, a famous but tragic connection. The picture is now in Marple Library.
Lt. Barlow had a sister, who of course lived at Woodville, until near her death in the late sixties, when the house, now sadly demolished, became a Care Home, to be replaced by the now all too common "Functional Building", also a Residential Care Home called Arbour Court (Buxton Lane). Miss Barlow was the Hawk Green Cricket Club's President for many years and there is a photo of her tossing a coin prior to the Official opening of the new Ground in 1960*. In fact she opened the Original Pavilion on the Green, a picture of which can still be seen, surrounded as she is by 10 players (Who's missing?) and officials.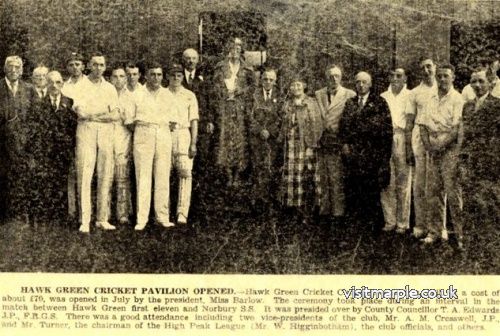 Hawk Green Cricket Club's new pavilion, built at a cost of £70, was opened in July by the president, Miss Barlow.
*Photo in the New Pavilion with the late Roy Hallas, Hawk Green, and Mike Simpson, High Lane, Captains on the Day.
Our Stan
Stanley Taylor could certainly be described as a character; one reason being he had what is nowadays called 'learning difficulties'. However, this handicap did not prevent him from leading a useful life for he was always to be found at the new (1960) Hawk Green cricket ground, even at times working solo. This when not looking after the pigs at Mrs. Jacobs' smallholding. For the latter toil he was paid 10 shillings (50p) a week, the positive aspect being not the money, but his mother 1.5 miles away always knew where he was, as with the cricket club.
For a number of years the club members toiled away (the usual few) digging drains, laying footings, moving soil and finally erecting the second hand pavilion we were given, adding the original building from the village green at each end. The whole project was quite an undertaking. However, Stanley was ever-present calling for the keys in the morning to start work right away. During the day he would be despatched to brew the tea, later to be "wound up" about its quality. The jibes about this and his general work would, to a stranger, seem insensitive and cruel, but not to those who understood him. Stanley acted as light relief at times to the beleaguered few, replying with unwittingly hilarious answers accompanied with the cackling laughter. He gave us lots of memories, which the older club members still talk about. An instance would be when visiting players attempted to take the rise out of him but found themselves the biter bit, wishing they hadn't tried!
A fond memory of our hero is of him abandoning his wheelbarrow to dash off to meet the approaching band, whereupon he took his place ahead of Ray Noble (the Mace bearer leading the marching musicians) to start brandishing his own ceremonial stick (anything to hand!). How the uniformed players managed to blow their horns, the Mace man not drop it and the drummer keep time is a mystery! According to Jack Turnbull, the parade was once thrown into confusion when Stanley's walking stick became stuck on an overhead wire. These episodes are treasured memories and are all part of our village folklore.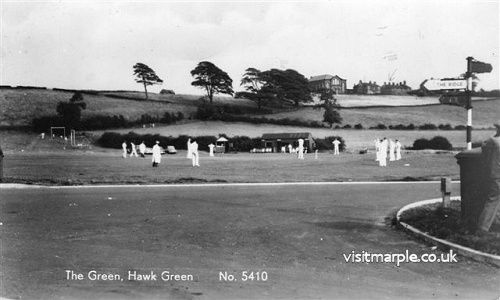 Cricket on the Green at Hawk Green.
Another oft repeated anecdote is of Stanley 'upbraiding' a policeman. When being given a pillion ride home on young John Ridings' moped. Now this may have been all right except that the said 'motorised bicycle' was showing 'L' plates. "Hello, hello, hello" said the uniform "What's goin' on 'ere then?" He proceeded to take particulars whereupon Stan played his ace giving his name as Lockhart (Inspector Lockhart of a long running TV detective series!). Stan of course would not have realised how cheeky this was but our friendly local bobby soon realised the situation and only John was fined for the offence - £2.00 being the sum levied (a tidy amount 40 years ago!) but worth it for the fun we had recounting the story at the cricket club.
Stanley, our "groundsman" as some opposing players assumed due to his brushing and rolling at the interval (not marking the crease), once travelled to an away match at Parkside, Macclesfield (the mental asylum that was) which was used by a local club. During the game the spectator inmates were being rounded up to have their tea when it was noticed our only travelling supporter was in the group! The nurses had broken away at a trot, briefly halting the cricket.
Space curtails the many, many anecdotes and personal recollections of a much loved character; how he 'transferred' his allegiance to Marple Cricket Club; his acquisition of a girlfriend ("get married, you must be joking mate!"); still living with his 92 year old mother (outside loo 40 yards from the house up to 11 years ago!); then his Christian 'conversion' later in life. And so on. Sadly our Stan died singing in the schoolroom chapel in December 2001 - he was 71. There were many mourners that New Year's Eve at All Saints Church. He will always be fondly remembered by everyone that knew him - a character indeed.
More about the Goyt Mill
This elegant late Victorian structure built in the grand style of the period: arched windows, turreted walls, buff coloured terracotta and distinctive wall tiling, would be prohibitive to build nowadays. But that is how things were done in the days of cheap -materials and cheaper labour, however, much of the exterior fabric of the building survives to give the onlooker an impression of how it would have looked on its completion in 1905. The advent would, of course, been welcome in the district providing work for the semi-skilled and unskilled workers in the area, replacing the demolished (burnt down) Shepley Mill next to it. This site was still being cleared in the 1930's and is now a newly built industrial site, once again providing services and employment, as of course does the Goyt Mill rented out in units.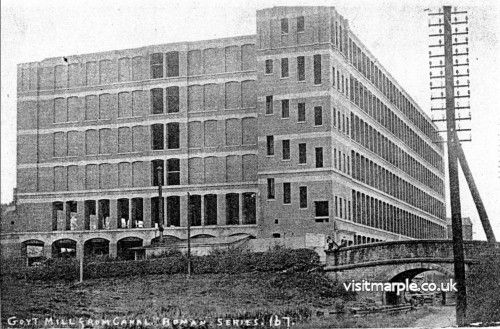 The Goyt Mill during construction. From Marple Local History Society Archives.
My recollections as a child in the 30's and 40's were of the general noise and activity around the place with many employees, some arriving and leaving on the North Western bus specials, one at least being an old petrol engined Tilling Stevens brought out of retirement (for the transport buffs!).
All this took place during the week, the weekend being reserved for maintenance to the myriad engineering and other needs, one important aspect being the massive Belgian made (I think!) steam turbine (me being a paper boy being allowed to visit when I wished). This drove an enormous drum with 52 grooves in turn driving the line shafts to each floor level via ropes almost disappearing up a cavernous open shaft (present day Rope Race) with cotton waste and general dirt covering the walls and shaft bearings in complete contrast to the tiled, ordered cleanliness of the engine room.
The whole would be a tremendous tourist attraction nowadays, 50 years or so after the closure of the mill caused by the inevitable cheaper imports, especially weaving although the Goyt Mill was a spinning mill only whereas the adjacent Shepley Mill (a family mill-owning name) had been a spinning and weaving unit too.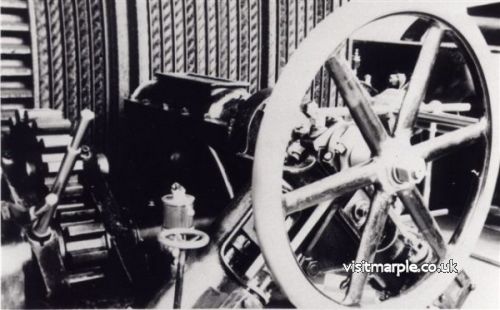 A barring engine in the Goyt Mill.
he surrounds to the area provided an interesting varied playground in those less security conscious times with the so-called Goyt hills (excavation dumped untidily next to the building). We used to play various games, build our dens with cotton drums etc. We would hide or plan our raids on a nearby gang's own den - all innocent fun with no vandalising.
The coal to heat the boilers was delivered by narrow boats to the wharf close to the second bridge with the arches, where the coal could be off loaded when the steam crane was not working. This would run up and down on a short track to the bunkers behind the boilers where the present Goyt Glass and Timber unit is situated (2003). When the bunkers were full, the coal was dumped in a great heap nearby for later use. One Sunday afternoon a father and son were fighting on this black pile - they lived on the narrow boat delivering coal and mother was screaming at them from the tiny cabin. This is how even large families lived, the boats providing accommodation and a meagre wage (no doubt) in return for their labour. It seems the two men had been to The Crown at lunchtime, but I am sure the claustrophobic living conditions played a large part.
War Time Recollections - Marple
My first Wartime Memory lingers very strongly in my mind and it took place on the very day that war was declared! I was a choirboy at All Saints Church (complete with its separate Bell Tower-is this unique?). On Sunday 3rd September, 1939 we, the choirboys, were playing 'Battleships' on scraps of paper, having dutifully sung earlier hymns along with the male tenors and bass behind us while the Vicar F.S. Spackman was preaching his weekly sermon - no doubt including the impending conflict - though we were not listening - when suddenly at 11.05 the Vicar's daughter Helen came hurriedly down the aisle, her father meeting her at the alter steps where a murmured conversation took place. Helen then hurried back down the nave. Mr. Spackman; who had served in the First World War, strode back to the pulpit, abandoned his sermon to lead us all in solemn prayer for all souls who would serve and suffer. We all then sang the closing hymn. We choristers processing to the vestry. Of course to young lads, I was aged nine, it all seemed very exciting. Chattering while we took off our cassocks and surplices. Then outside we watched with curiosity the congregation worriedly discussing the events of the moment and in particular one Janet Fielding, weeping on the shoulder of her fiancée Sam Graham, knowing that he would be 'called up'.
Well, Sam was 'drafted', served in the Army, became a prisoner of war and came back to live in Hawk Green with wife Janet. Working for the Co-op he later became a self employed Grocer before becoming a Teacher. He also, for many years, opened the bowling for Hawk Green Cricket Club on both the Village Green and later the new ground across the road.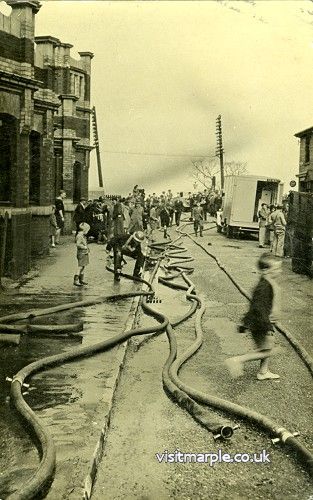 An ARP Exercise near the Goyt Mill in 1938-39.
From Marple Local History Society Archives.
I also recall seeing the Barrage Balloons (to bring down low flying aircraft) tethered above Manchester as we all looked that way from our unhindered view in that direction - no buildings then of course, just fields all the way from Hawk Green to Marple. So the government must have been planning for the expected War even then, or is my memory playing tricks with the timing? However they were certainly in abundance in the area with one unit stationed at the bottom of Ley Hey Park (Road) along with an Anti Aircraft Gun. In later years the buildings alone were still there with we young boys assembling there in the 'Army Cadet Force' pretending to be soldiers; Drill, Manoeuvres and the occasional trip out with the Annual Camp at Kimnel Bay and Pensam, North Wales, being the main attraction and of course the Uniform! Imagine the same situation in 2005 - most boys would simply scoff at the idea.
There was, of course, a fear of Raids by German Bombers so the preparations for such events included the Building of Air Raid Shelters, of which there were two on Hawk Green - neither would have provided any real protection. Issuing Gas Masks to everyone, including babies, Sandbagging important Buildings, Painting the edges of wings of vehicles (some with a Gas Bag fixed above) taking down all the road signs with all lights extinguished after nightfall. A familiar cry 'put that light out' would become a catchphrase with heavy curtains or blinds a permanent fixture.
Firewatch Teams were formed and stirrup pumps issued. Later of course Food Ration Books were given out and frugal though they were the diet is now said by some to be healthier than in 2005. However I know which I would prefer -not cold mutton, rissoles, Snoek (fish) Sago Pudding which looked like frogspawn, Corned Beef and other unappetising offerings, which was the normal fare for years. Rationing only faded out about 1950 even though hostilities ended in August 1945!
Also we have to remember that sweets (toffees to us) soft drinks etc were in short supply. Newspapers - mainly war news - used only 4 pages. Everyday items and goods such as oranges, bananas and others normally imported goods were not seen for five to six years! In fact anything deemed not important enough to take cargo space in the sea going convoys coming to our beleaguered island.
Petrol of course was strictly rationed with the tokens being in great demand on the black market and many were the charges brought by the courts for offences against the system, such as showing a light through a chink in the curtains during the black out - brings to mind the TV series Dad's Army and the cry of 'Put that light out' by Air Raid Precautions Warden Hodges!
The convoys mentioned earlier, bringing goods and desperately needed materials for our War Effort were decimated by the German U Boats (Submarines), until later in the War when our methods improved. Many of our slow moving merchant ships and naval craft were sunk. Thousands of lives were lost in the so-called Battle of the Atlantic. Eventually with more than 700 U-Boats destroyed we gradually came out on top but to quote Winston Churchill, our inspiring Prime Minister, "It was a mighty close run thing" so thank God for the brave merchantmen, coastal command and the Royal Navy!
Books by Nicholas Monsarrat, who served as an officer aboard a Navy Ship at the time, give an excellent account of dangers and exhilarations of Life at Sea and ashore of the period, though harrowing at times.
At School and Play
Most Children, depending on their age, took all this in their stride since there was no alternative they knew of and took their pleasures simply by playing outdoors where possible, playing all the games mentioned previously. They also enjoyed exploring the area around Hawk Green, Marple and the so-called Roman Lakes. The area, which I now realize, as a mature adult, is a varied and interesting one, gives opportunities to young and old, if only young people could tear themselves away from their Video Games to discover them! During my time at All Saints School on Church Lane there was only one male member of staff -the Headmaster Mr. Revill - there was briefly a Mr. Stead who went off to the war and came through it. Now Mr. Revill - "Revill the Devil" as he was to us children- a fearsome man who lived in the house next to the Playground on his own and when he strode round the main hall where two classes were held the floor would shake and so would the children as he came by. The punishment for any slight misdemeanour was to be the command "Go to the desk" by the class teacher. The "Desk" in question was Mr. Revill's office which consisted of a line of freestanding 6'6" partitions against which the miscreant would stand with their back to the class in the open hall behind - just imagine the feelings of both the unfortunate child awaiting the usual punishment by the Strap, "Hold out your hand Boy" and the children sat at their desks pondering their possible fate. A kind of fear children have not felt for many many years. We did behave well generally but we had to learn how to dodge the flying chalk when not paying attention! Mr. Revill would even walk past the trembling boy - he was kinder to girls - more than once before calling him into his 'corral' leading to further torment before punishment. In fact the so-called 'strap' (leather with tails) was a relief. Further partitions as described earlier, also served to divide the Main Hall into two sections so obviously the general noise could be heard throughout the room and access to other classrooms was also gained by passage around the pupils at their desks, which in turn was a distraction for them and the teacher.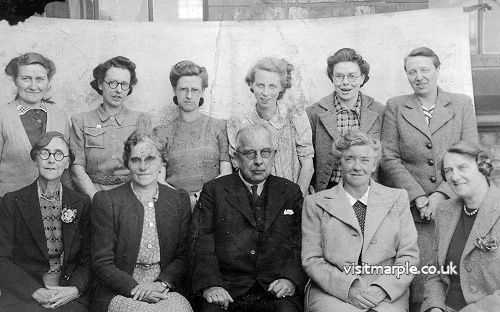 Names: Front Row: Miss Walker, Miss Johnston, Mr Revill (Headmaster) Miss Dobson, Miss Hayes.
Back Row: Miss Sheldon, Miss White, Miss Lockwood, Mrs Titterington, Miss Brown, Mrs Key.
The games and pastimes we children took part in during playtime were many and varied. In fact some would not be allowed in 2005 - they would involve physical activity and of course there was no supervision. Leap Frog, Tick, Whip and Top, when the so-called 'Window Breaker' could fly through the air. To make a slide as long as possible on frozen snow was great fun. All these games were good exercise and must have improved all round coordination, unlike playing computer games or watching TV.
One day the Air Raid siren was heard so we all hurried out of school to the Air Raid Shelter across the road to await the 'All Clear'. As we did so an Aircraft flew over in the clouds, further exciting us, although it almost certainly was one of ours.
In the early part of hostilities the cardboard box containing a Gas Mask had to be carried over the shoulder until it became clear that no gas attacks were expected.
A notable fact of that period according to Miss Brown (who still lives at the age of 90 in a nearby house) is that there was no national curriculum for learning since it was decided by the County Education Authority with local interpretations - surely an unsatisfactory situation but who knows? A further blight on our education was the system of taking children out of Senior School to help the farmers to 'Dig for Victory' - not that we didn't enjoy the afternoons out even though we were not usually paid.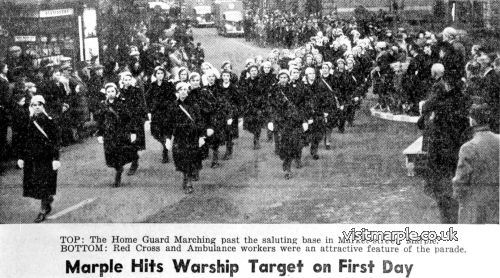 In 1941 Marple held a "Warship Week" and raised £60,000 on the first day.
As to Fashion - in clothes or mode of dress - well as with everything else, apparel of most kinds were on ration. The ladies would rekindle their dressmaking skills while the men would perhaps turn their gardens into Allotments to produce vegetables and even repair the family's shoes, which begs the question how many houses now will even own a cobbler's last? The clothes in the 30's and 40's would be almost Victorian, especially amongst older folk with ill fitting suits and so called sports jackets - often to be seen with flat cap and braces. However, not seen too much nowadays, polished shoes and boots! The ladies would wear frocks, unlikely coats and hats and Woolen & Lyle stockings - no nylons of course.
The Deprivations were many. Discipline and war efforts abounded but people bonded together for the common good. As witness, in a very minor way during a recent water cut off when help was offered to neighbours.
Humour too, was a morale booster when wartime songs and radio comedians, not to mention local plays and pantomimes would help to lift the populace. We kids would parade around doing the Goosestep (German ceremonial march) with one finger under our nose (moustache) the other arm raised in a Nazi salute shouting "Zeig Heil" - well, we thought it was funny. Remember Basil Fawlty.
Time and space hinder further recollections and other data. Other interesting anecdotal accounts and facts can be found in Local Historian Jack Turnbull's Book 'A village at War".
Yes we The Allies did 'Win the War' but at great cost to life and indeed our way of living. Simple pleasures eventually gave way to more sophisticated ways but many people look back with some nostalgia on those war torn years and at least we were not under the Nazi Jackboot as much of Europe was where the War raged in its most savage way.
Hawk Green Cricket Club - The Early Days
The origins of this proud progressive club are somewhat vague. However, it is established that cricket was first played in this area on the present Marple golf course, on the fairway of the No.3 hole, adjacent to what was then a local tip and where, until about 1985, people would dig to find artefacts - 'pop' bottles etc.
A hard standing road can be discerned under the grass leading down to the site, from the Shepley Lane canal bridge. The only real evidence we have of the existence of cricket there is a faded photo of just the gable end of the 'club house', certainly just a shed in those days, and that is all, no records (as yet) no equipment, and of course, no verbal memories. However, Wallace Jackson, a former very active member, did pass on a few memories before he died early in 2007, though, of course, he never actually played at the original ground.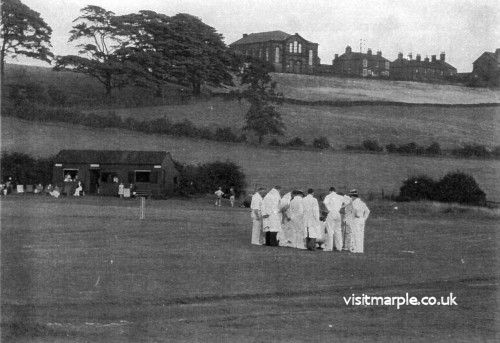 Cricket on the Green at Hawk Green. From Marple Local History Society Archives.
We are also indebted to Wallace for relating the events surrounding the establishment of the organised cricket on the "village green", which until the early 20s, was uncared for - a tip by some accounts. Being "common land" by statute meant that cattle and sheep could be grazed there. Apparently, supervised by a local builder, Roland Eastwood (he built East Drive) the green was roughly levelled using cinders from the Goyt Mill, which are still in evidence today. The playing square, however, was raised at the lower end and always played well. Indeed, it was lifted by the members and laid on the 'new' ground in 1958-59 -no cinders there, thank goodness!
The original pavilion was a black and white striped building situated across Windlehurst road where it joins Barnsfold road, so the players had to cross the main road to reach the playing area, just imagine that in today's traffic!
Incidentally, the scorers sat in a box built on the roof, perhaps the better to view the game. This, another unique feature about our club, added to the fact that they actually played organised cricket on a real village green.
The 'new' pavilion was officially opened in what appears to be the late thirties judging by the age of the known players on a photograph, with dignitaries and with the chairman of the league, Mr. W. Higginbotham also present - which begs the question, would this be any relation to Bill Higginbotham of Hayfield C.C? Another unique oddity was the fact that, because of the cinder path right of way across the outfield, play would occasionally be halted when people would wend their way across on their way to 'the Ridge', quite unaware that the cricket was halted because of their 'trespass', accompanied by the sarcastic 'bellows' from the 'crowd'. Another feature of cricket on the green was the preparation required before each game. In no particular order:
heavy mesh guards protecting the engraved crown hotel windows (3) and similar guards at the large Co-Op window (3) had to be hung in place,
the cumbersome posts & wire fencing from around the square had to be dragged away to four sides,
for "health and safety" (in 1935), the pestholes had to be made 'safe' with square rebated wooden blocks,
not forgetting the removal of the cow pats! (Usually just from two cows),
place metal 'ring' post and rope to form two boundaries (the roads were the other two!)
Next, two even more important chores:
Is the Elsan waterless toilet ready for use behind the 'pavilion' (Ugh!)?
Is there enough gas to heat the tea urn for the ladies to use when they prepared our teas in the tiny 'kitchen' situated between the changing rooms? (the teas being passed through the hatch (no tables!))
The scorers in those days sat in the home dressing room,( too bad if there was a lady scorer!)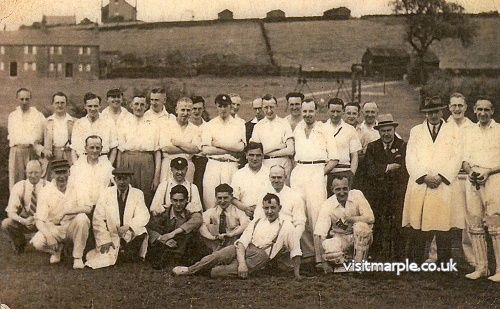 1940s Hawk Green Cricket Team. Provided by Ray Noble.
Until 1957 there was no sightscreen either, then only at one end. The previous year saw the first practise nets on concrete, the provision of a 'summer' house for the scorers, (a gift), ground equipment (which consisted of spades, rakes, a white boundary marker, a very good 12 blade cylinder mower (we didn't mow the outfield, (the cows kept the grass low apart from where they'd been busy!)) - and not much else! Yes it really was village green cricket.
Outstanding memories from the 30s and 40s; I was delivering papers near the Goyt mill when a group of players came down the middle of the road (no traffic); it was the Romiley team who had been dismissed for 9 runs! They walked to Marple train station - no cars in wartime! Another memory was the so-called "Whit Walks", with the large banners carried by sturdy men, and supported by 4 guide ropes. The procession would stop on the green, where a short service with hymns took place, halting the cricket for half an hour. Imagine that nowadays!
Hawk Green (only one XI) won the High Peak League title in 1945. The deciding game took place on The Green - what a day that was! Another highlight was a cup match about 1957 when Hawk Green were drawn at home to a first division Chapel-en-le-Frith over two nights, (no promotion/relegation, never the twain!) Well there was never such excitement; They were like gods to us! - And we won. Next round we crashed out to another 'top' side, New Mills.
But we had had our day in the sun!

If you have anything to share about Marple's history and heritage, including photos for the Virtual Tour, or if you would like to submit an article like this for publication on the site please get in touch using the contacts page.