We are a group of 30 + textile artists who share a love of silk painting and creative work that includes embroidery, printing, fabric dyeing, batik, silk paper making and mixed media techniques such as Tyvek, Angelina and Bondaweb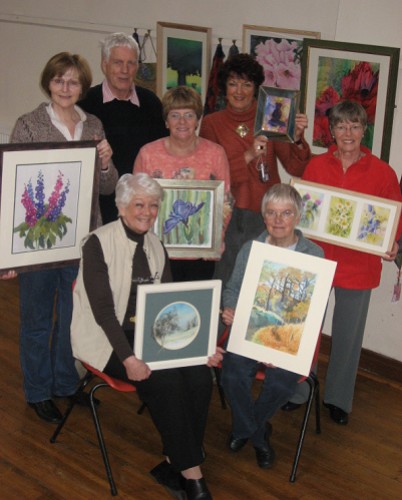 Seven of our members having a photograph taken in preparation for an exhibition
We meet once a month (usually the last Friday of the month between 8 and 10pm) at St. Martin's Parish Hall, Brabyns Brow, Lower Marple. In addition we hold a weekly Monday Club, also at St. Martins, from 2-4pm as an informal get together to chat and share expertise.
Our monthly meetings have a varied agenda including guest speakers, workshops and sessions where we share our individual skills with fellow members. Previous guests have included Leonard Thompson, Mary Day and Alsyn Midgelow-Marsden and Ruth Brown. During the year we organise trips to exhibitions. In the past these have included the Knitting and Stitching Show in Harrogate and Patchings Art, Craft and Design Festival in Nottinghamshire.
Several of our group are full members of the International Guild of Silk Painters and The Embroiderers Guild. In May 1999 we hosted their biannual festival at Quarry Bank Mill, Styal. The exhibition attracted over 400 members of the public to view and enjoy a 'hands on' experience of silk painting. As part of the 2005 festival we designed and painted a banner that depicted Cheshire and the hat-making heritage of Stockport. This banner hung for many months in the Hat Works Museum in Stockport.
Members have the opportunity to exhibit their works of art as a group several times a year at a variety of venues including Buxton Information Centre, Stockport Art Gallery, Bollington Art Centre and in 2008 at Tatton Hall, Cheshire as well as individually throughout the North West.
Our members range from absolute beginners to those with several years of experience in textile art. It is an excellent way to meet and socialise with people who share the same interests. Subscriptions are £15 per year, due in September.
Visit our blog at http://silk-n-threads.blogspot.com to view a sample of our work, activities and news.
For further details please contact Beryl Wood 0161 336 5847