"Magnificent Mellor Mapped"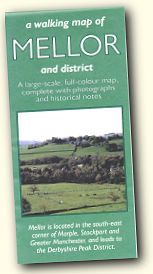 One of Greater Manchester's hidden gems is the beautiful parish of Mellor, nestling in the far south eastern corner of Stockport and Marple. It rises from the valley of the rushing River Goyt through fields and woods to wild moorland, reaching over 1000 feet at the Derbyshire border close to the Peak District National Park. Its rich variety of landscapes is matched by its fascinating history, which has been traced back over thousands of years.
What Mellor has lacked is a publication which brings together a wide range of key information about this fascinating place.
Until now, that is. Because just published is a magnificent Walking Map of Mellor. It combines beautiful and authoritative mapping of the whole area, at a scale ideal for walkers and riders, with a range of photographs and a detailed collection of historical notes on the various points of interest in the district.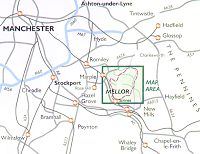 The Walking Map of Mellor is the brainchild of David Ackroyd and Peter Hewitt. David has lived in Mellor for many years and is a keen walker and local historian. He published (with a friend Geoff Heath) a book of 12 Mellor walks including a 10½ mile Mellor Boundary Walk. Peter worked years ago with David for Stockport Council, and after he retired in 1999, they began to walk together in the hills and valleys of Mellor. As they did so, they realised the need for a map of the area which would provide all the information walkers need to enrich their expeditions.
They resolved to fill that gap, and the result of their collaboration is the Walking Map of Mellor, already selling rapidly in the immediate area and now available to a wider audience.
For more information and how to order, visit http://www.mellormaps.co.uk