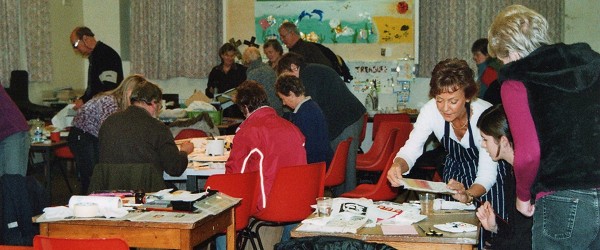 A Mellor Art Society batik workshop being run by Julie Maybin, a local retired art teacher.
Doug Lowe from Marple Bridge was the inspiration and driving force for the creation of Marple & Mellor Art Society in October 2001 to provide a focal point for local people wanting to develop their interest in art. At that time Marple Art Society had a waiting list that was about 6 years long. The venue for the group was Mellor Parish Centre a delightful spot with lovely views and we spent one summer evening sitting amongst the tombstones sketching the view. However, many members needed transport to get there as it is a little remote and has a very dark car park in winter so after 3 years we decided to find a location more central and easier to access for our members. We moved to St Martins Church Hall next to the station in Marple in April 2005 and at the same time changed our name to Mellor Art Society to avoid any confusion with Marple Art Society.
Each October we hold an annual exhibition at St Martins Church Hall that is extremely well attended.
Doug Lowe was Chairman of the group for 2 years but managing his own studio in Vernon Mill and running his business made demands on his time and Norma Hopwood took over as Chairman.
Professional tutors are regularly invited and we have hosted workshops with Martin Goddard, Geoff Kersey and Eric Wilson. It is a Friendly informal Group with all skill levels and interests in a variety of media.
Our move to St Martins Church Hall has been very successful. Membership has increased substantially and we are always pleased to welcome visitors and new members to our Wednesday night meetings between 7.30-9.30pm.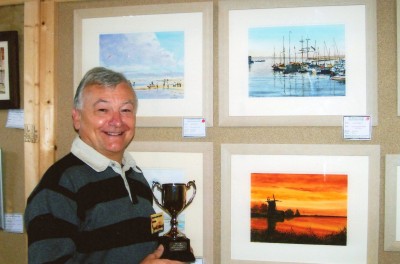 Dave France our programme organiser with the cup for winning the "best picture" at our exhibition.
Society contacts:
Norma Hopwood (Chairman) 0161 368 0321
Ken McEwen (Vice Chairman) 0161 0161 427 5968
Annette Anderson (Secretary) 0161 449 7251
Visit the Society's own site at www.mellorartsociety.co.uk