On Sunday 2nd of July 2000 the village of Mellor opened 15 of its private gardens for viewing by the general public. This was the third "Open Gardens" event organised by Mellor Friends of ICRF, the previous two being held in 1992 and 1995. Mellor Friends' is a fund raising group formed in 1988 by a small team of Mellor residents to support their favourite charity, the Imperial Cancer Research Fund. Since then they have raised money with a great variety of events including the open gardens, art exhibitions, concerts, walks and a fashion show. They have raised over £20,000 to support the invaluable work of the ICRF.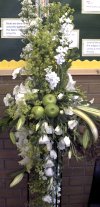 This was our first visit to the "Open Gardens" and we were unprepared for the scale and professionalism of the event. If we had purchased the programme and walking guide in advance, instead of on the day, we would have discovered that around five hours were needed to have a hope of seeing all the gardens, even if we only spent 15 minutes in each. Unfortunately we did not allow enough time for this, a mistake we hope to rectify next time the event is repeated.
The day centered around Mellor School, where refreshments included morning coffee, light lunches and afternoon tea with homemade cakes. There were also flower arrangement displays by local clubs and florists, miniature gardens created by local school children and an exhibition of garden ceramics by local artist Sue Crossfield. In the afternoon musical entertainment was provided by Thornsett Band, a youth band formed in 1995 and conducted by Claire Pownall.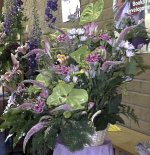 The event was extremely well supported with numerous visitors who came prepared to combat whatever our great British weather had to offer. In the end the weather was kind, with early rain showers being fairly light, followed by brilliant sunshine later in the afternoon. During our visit we managed to take in just over half of the gardens on display, these being numbers 8, 9, 10, 11, 13, 14, 15 and finally number 2, our firm favourite of those we saw. Follow the links for photographs taken during the day. They often do not do justice to these excellent examples of the English garden but hopefully give some idea of the variety and high standards on show.
Thanks to everyone involved in the organisation of Mellor "Open Gardens" for providing an excellent day out in support of a good cause. Apologies to the owners of the gardens we did not manage to visit for not being able to include pictures of yours here, however if anyone would like to provide some they can soon be added.