Early in 2010 Craig Wright, David Sumner and Tom Lord met on Craig's initiative to discuss Rose Hill Station, its train service, station facilities and environment. Craig knew how to contact Northern Rail and GMPTE and as a local councillor and railway enthusiast (ask him about the North Staffordshire Railway) he offered to act as Secretary of a new organisation. Tom is also a rail enthusiast (he has driven public steam hauled trains in Poland). I, until recently travelled the Rose Hill Line to Manchester daily, and am also an enthusiast and organised the 150th anniversary celebrations of the Liverpool to Manchester Railway in Manchester in 1980. So on 29th June 2010 at the Railway Hotel in Rose Hill Friends of Rose Hill Station was formed with 39 members.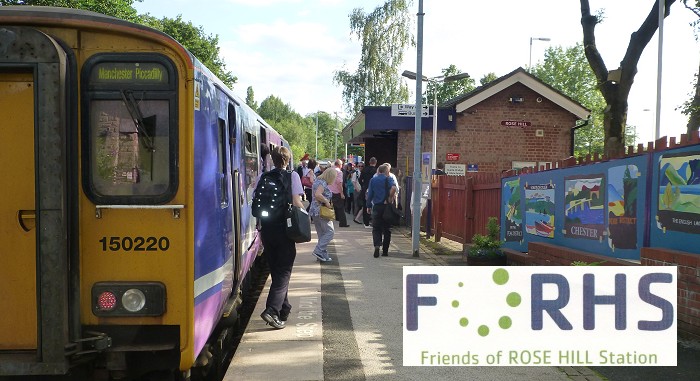 Since then we have held regular meetings at the Railway and discussed with Northern Rail and GMPTE how we can improve the Station, its service and surroundings. You may have seen us at work on the station on Sundays. We have a hard core band of eight volunteers who meet monthly (usually) at 10.00am on a Sunday and would welcome more support. We have, by courtesy of Northern Rail, access to the waiting room and storeroom for our tools and equipment. Until Marple Station becomes disabled friendly Rose Hill offers easy access including a new booking office and partly manned by Tony Tweedie, the present stationmaster, who is very helpful and also helps keep the platform clean and litter free.
As well as improve the environment and make the station welcoming-look at the paintings by Rose Hill Primary School in the waiting room-we want to see an extended service to include late night trains and a Sunday service.
The bigger our voice the more we will see a better service. Join us!
David Sumner (Chairman FoRHS)
For more information contact:
David Sumner Chairman 0161 449 9084
Stuart Patrick Secretary 0161 427 4282
or email