| | | |
| --- | --- | --- |
| Doric Lodge | | No. 3384 |
Freemasonry is an ancient society that offers its members an approach to life that seeks to reinforce thoughtfulness for others, kindness in the community, honesty in business, courtesy in society and fairness in all things.
In Marple, Freemasonry can be traced back to 1759 when the Lodge of Benevolence, which had met at the "Sign of the Unicorn" in Hillgate, where the Robinson's brewery now stands, ceased to meet at the end of the 18th century. Under a new warrant it re-formed in 1809 at the Stags Head, Marple Bridge, now known as the Norfolk Arms. The Bulls Head and the George at Compstall were other meeting places but in 1843 it settled in the Jolly Sailor where it met until 1976, then adopting the Guildhall, Stockport, as its new home.
One member of the Lodge of Benevolence was Samuel Oldknow, known by some as the 'Father of Marple', a Christian gentleman. In All Saints Church, Marple is a monument by Chantry to Samuel Oldknow which bears witness to his Benevolent nature and his love for the people, the Church and the King.
Such was the popularity of the Lodge of Benevolence that a number of members, joined by brethren from Lancashire and Derbyshire, joined their Cheshire comrades in founding the Doric Lodge in 1909. This new Lodge was consecrated in the Shepley Hall, Marple, where it still meets to this day.
Masonry offers membership to all men of good will, of any race or religion, who have a belief in a Supreme Being and who are of good repute. It is an International society recognised throughout the world as a supporter of noble causes. In England it is the second largest of the distributors of charitable aid after the national lottery. Members are urged to regard the interests of the family as paramount but, importantly, Freemasonry also teaches and practices concern for people, care for the less fortunate and help for those in need.
To this end the Doric Lodge has given aid to many worthy causes over the years, some of the local and most recent include:-
East Cheshire Hospice,
Beechwood Cancer Care Centre in Adswood,
Sharecare in Bredbury
And most recently £1000 to the Friends of New Horizons, ( pictured right)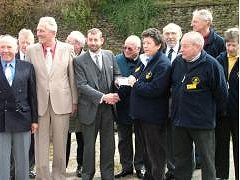 If anymore information is required or if you think Freemasonry is for you and you are over 21 years of age, speak to anyone whom you know to be a member, he will be pleased to discuss our organisation. All members are willing to assist in your enquiry, or if you wish, contact us at