THE SOCIETY OF
MARPLE ARTISTS
The Society of Marple Artists 49th Annual Exhibition
28th - 29th April 2017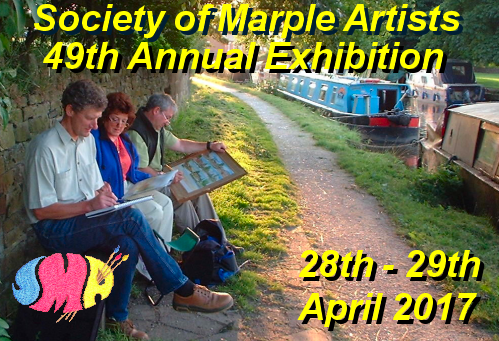 Members of The Society of Marple Artists are again making preparations for this year's annual exhibition. Last year was another successful exhibition and we had tremendous support from every member. Attendance at the exhibition was once again very encouraging and we would like to thank the public for their continued support. The chair, Steve Abbott is confident that our 49th exhibition will be as successful this year as it has been in previous years.

The event will be held, as usual, in the Methodist Church Hall, Church Lane, Marple, SK9 7AY on Friday 28th April from 10.00am until 9.00pm and on Saturday 29th April from 10.00am until 5.00pm.

Around 400 original new paintings and usually a small number of sculptures by the 120 members will be on display, giving visitors an opportunity to view and buy a wide range of work covering a variety of subjects, styles and media.

Members will be on hand to provide assistance and discuss their work.

Entry to the exhibition is free and refreshments are available.
Society Contact: Chairman Steve Abbott 0161 449 9963.
Last Year's Public Vote Winners
First Place, "May - A Portrait" by Elizabeth Challinor: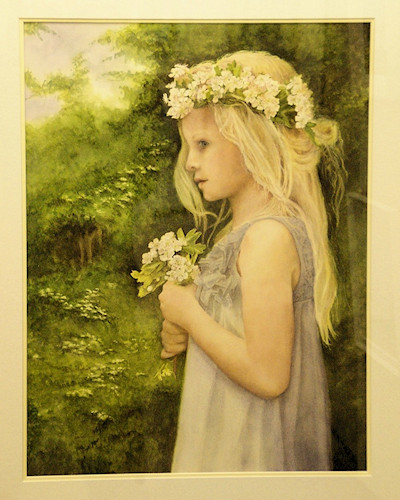 Second Place, "Three Sleepy Donkeys" by Eileen Hurst:
Third Place, "Oldham Street" by Hugh Winterbottom: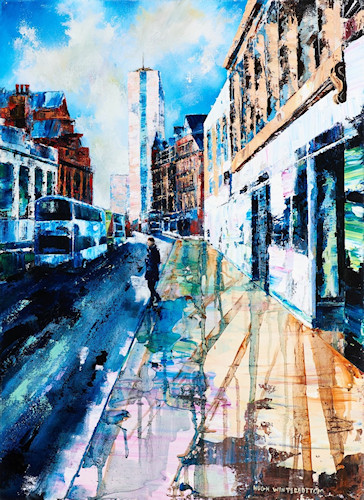 To see more SMA members' artwork visit The Marple Website Virtual Tour
The SMA did well in last year's St Cuthbert's Mill, Saunders Waterford Post card competition. The results were announced this year, David Steeden did well again and received 3rd prize (£50 worth of paper) out of a thousand entries (see Steam Engine) and we had at least 5 runners up, detailed below:
| | | |
| --- | --- | --- |
| Postcard by Sandra Crake | Postcard by Mrs P Nelson | Postcard by David Steeden |
| Postcard by Derek Williams | Postcard by Carole Brown | Postcard by Jim Hibbert |
The Society has a busy programme all year round, as highlighted by the following pictures:
Marple Locks Festival 'A Great Day Out For All'
The Civic Society and the Society of Marple Artists supported Marple Locks Festival in July 2009. It was hoped that we could encourage the youngsters of Marple to get involved with painting alongside some of our own artists and as seen by these pictures a good time was had by all. The sun shone for everyone as well which made a very special day for all involved.
| | | |
| --- | --- | --- |
| David Steeden paints Lock Side | Cath Siddall in the exhibition marquee | Artwork on display at the Festival |
Glossop Art Group Visit

We have a close relationship with Glossop Art Group and we meet twice a year. Sandra Whittaker our Programme Secretary sets a theme for when Glossop visit us and they do visa versa when we visit them. This visit the theme was "Friends" so artists would bring their artistic variation on the subject and would say why this piece of artwork would say friends to them and I must say there were some heart warming stories behind the paintings plus a little poetry from Peter Murray who is one of our members. We always put a buffet on and of course Glossop do likewise so we all go home full of good food and feeling very happy at having spent such a lovely evening together.

I particularly love the photo of Henry dishing out the tea and coffee as he not only serves the drinks on these occasions but every week come rain or shine he is there serving our tea and coffee and always with a little bit of Scottish wisdom and of course the lovely smile. Wonderful!!
..


Henry
Masson Mill Pro Loco
These photos were taken at Matlock's Masson Mill Pro Loco. The winners paintings are now displayed in the board room.
| | | |
| --- | --- | --- |
| Kath Siddall shows her finished work | Winner on the right | Dot Goodwin at work |
Bockingford Postcard Competition
In November 2008 many of the group took part in a postcard competition run by Bockingford who make fine watercolour paper. There were 1,000 entries and although we didn't get anyone in the top three prize group, three of our members were runners up of which there were 100. We were as delighted as they were and their postcards were exhibited in London at the RKB Gallery on the 19th February 2009. The three postcards are shown below and I think you will agree the standard was very high and to paint something on a 4" x 6"postcard is quite a challenge.
| | | |
| --- | --- | --- |
| Postcard by Barbara Boswell | Postcard by Carole Brown | Postcard by David Steeden |
Bruce Mulcahy Workshop
In February 2008 a workshop was held at the main church hall where 18 artists gathered with their acrylic, oils or gouache for a days painting with renowned landscape artist Bruce Mulcahy. Bruce comes from Dewsbury in Yorkshire and back packs all over the countryside in all kinds of weather to find the perfect place to paint what is around him. At the end of the day we all went home with a painting that we were pleased with and I must say there were a few that were superb.
Bruce takes parties for painting holidays, (long weekends and full weeks) in some of the best beauty spots in Yorkshire. He can be contacted for information on tel. no. 01924 459 710.