Chris Finney - Marple's Winner of the George Cross
Update 16 May 2004
We're delighted to announce that Chris was presented with his gold watch at an informal private function at the Navigation Hotel, Marple, last night. The event was attended by representatives of all the groups and organisations who had contributed to the appeal and we believe a good time was had by all.

The watch was presented to Chris by our very own Peter Clarke who, when he heard of Chris's actions resulting in the award of the George Cross last year, had the idea of trying to recreate the civic pride felt in 1916 when Joe Goodwin was given an engraved gold pocket watch by the citizens of Marple.

Peter's speech echoed the sentiments at Joe's presentation in 1916:


Peter presents Chris with his watch
Good Evening Everyone.
The one thing that all of the invited guests here tonight has in common is their feeling of pride at Chris Finney's actions.
Whether that be the obvious feelings of achievement and relief at his ultimate safety felt by Jeff, Sharon and the rest of his family, or that feeling of 'civic pride' that all of you who donated towards this presentation feel.
As has been well documented, the history of that feeling of 'civic pride' is what first led me to suggest on the Marple Website that we should make some kind of gesture.
In 1916, Joe Goodwin was also a man who felt that duty to his comrades and country was important enough for which to risk all. His actions resulted in the awarding of a D.C.M. Then, the people of Marple felt it fitting to make a special gesture of thanks for the reflected honour that this brought on the community.
When approached in 2004 the community of Marple felt much the same way, which has resulted in us being here tonight.
I don't intend tonight to go into the circumstances surrounding Chris's bravery, I can't possibly compete with others who have done so before me. However, it is MY great honour to paraphrase the words of Councillor Hurst in 1916 when presenting Joe Goodwin with his inscribed Gold Watch:
"Chris, on behalf of the people of Marple I am very pleased to welcome you here, to shake your hand and to congratulate you personally on the deed of heroism for which you won the George Cross. By that deed you not only brought honour to yourself, but also conferred honour on your home town."
The watch inscription:

Presented to
Tpr Chris Finney
by the citizens of
Marple
on his having won the
George Cross
28th Mar 2003
When accepting the watch, Chris said that he was very pleased and proud to receive this gift from the citizens of Marple and that it meant a great deal to him because it came from ordinary people living within the community. He then visited each table in turn to talk to the people who had contributed to the appeal and to show them his new watch and his George Cross medal. This personal touch was appreciated by everyone and made the evening a great success.
| | |
| --- | --- |
| Chris thanks everyone | and shows his George Cross |
The event was attended by all the organisations who had contributed to the appeal, including Prags the Jewellers, who gave us a substantial discount on the cost of the watch. The final statement of donations and costs are detailed below. There is a small balance that will be donated to the Poppy Appeal:
| | | |
| --- | --- | --- |
| | Incoming | Outgoing |
| Donations (see below for breakdown) | £742.00 | . |
| Interest | £0.29 | . |
| Cost of watch & engraving | . | £500.00 |
| Cost of presentation night / buffet | . | £240.00 |
| Donation to Poppy Appeal | . | £2.29 |
| Totals | £742.29 | £742.29 |
All that remains is for us to give our own thanks to all those organisations and individuals who responded so positively to our appeal, enabling us to turn a good idea into such a great success. The full list of contributors to the appeal who made this all possible are:
| | |
| --- | --- |
| Marple Business Forum | £250 |
| Local Residents | £82 |
| Marple Councillors | £60 |
| Marple Community Council | £50 |
| The Rotary Club of New Mills Marple & District | £50 |
| Marple Carnival Committee | £50 |
| Marple Promotions | £50 |
| Etherow Community Council | £50 |
| Romiley Marple & District Lions | £50 |
| The Rotary Club of Marple & Goyt Valley | £50 |
| Total Donations | £742 |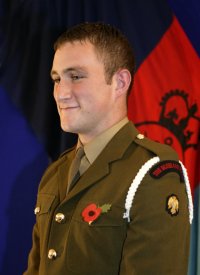 Update 23 March 2004
We're pleased to advise that the gold watch and bracelet chosen by Chris have been received at Prags and the watch has now gone for engraving. We had to tighten up the amount of text used compared to Joe Goodwin's watch, as there is obviously much less room on a wrist watch than a pocket watch, but it will convey a very similar message to Chris from the community as Joe's did in 1916.
We were delighted to be able to have a few pints with Chris and his parents in the Railway last Friday night and hopefully sorted out a date when the watch can be presented to him locally.
We'll provide further details of the presentation night when arrangements are firmed up, and once the watch is back from engraving we'll try to get a couple of pictures of it for display on the site - so that the people who have made donations can see how their money has been spent.
The appeal is now formally closed, so please don't send us any more money. The final sum raised is £742.00; thank you again to everyone who has contributed to this excellent amount.
When we know the exact cost of everything, including the presentation night, we'll publish a full statement. In the event of a small balance being left over we'll agree a suitable Services Charity with Chris for it to be donated to.
Keep returning for latest updates, and if you'd like to have a say on this issue, you can do so in the forum by clicking here.
Update 18 February 2004
At the weekend we were pleased to receive a donation of £50 to the appeal from The Rotary Club of Marple & Goyt Valley. This brings the contribution from local Rotary Clubs to a superb £100 - so many thanks for your support Rotarians!
We recently wrote to all the organisations who have contributed to the fund to buy the watch to thank them for their donations and to explain the current status of the appeal.
Today we've finalised a selection of four different designs of gold watch that we can afford with the money that has been raised and sent details of them to Chris, via his parents, so that he can choose the one he would prefer. Once we known this the watch can be ordered from Prags of Marple.
We have not yet made any progress with regard to how and when the watch will be presented to Chris, although we are hoping that it can be held locally and independently of other functions that are being organised to honour his achievements.
Chris has his investiture next week, on Wednesday 25th February, when he will be receiving his George Cross from the Queen. We wish him luck and hope he and his family have a wonderful day at Buckingham Palace!
Update 24 January 2004
We met with Chris's parents Sharon and Jeff Finney today and discussed the sort of watch that Chris would like and the inscription we might include on it. We also talked about the type of presentation they feel Chris would like and when he may be available to receive it. The latter is uncertain and therefore we're not sure exactly when or where the presentation will held yet. We have some clear ideas of how we'd like to do it, but they are dependant on whether Chris can get suitable leave from the Army to attend.
The presentation will certainly not take place until after Chris receives his George Cross from the Queen on 25 February 2004. It will also probably have to fit around him being given the freedom of Stockport, and a date for this has not been set yet either.
These are concerns for the future, there's no rush and we don't even have a watch yet! Although, thanks to the generosity of Marple's local organisations and residents, we do have enough money to buy one.
Since our last update we've received two more very welcome contributions from Etherow Community Council and Romiley, Marple and District Lions Club. Both organisations have generously donated £50 each. We've also received a further £42 in donations from local residents, including a contribution from Chris's mum and dad.
We're currently waiting for Prags of Marple to provide us with a catalogue of the watches we can afford and will then be involving Chris himself in choosing one. We know already that he'd prefer a wrist watch, rather than a pocket watch like Joe Goodwin's, we just hope we'll be able to get the full inscription on it!
Update 15 January 2004
We issued a press release about the appeal earlier this week and hopefully the story will have appeared in at least one or two local papers by now - keep your eyes peeled and please let us know if you see an article in any of them.
The appeal is progressing very well and this week we've received cheques from Marple Business Forum and the Rotary Club of New Mills, Marple and District. Marple Community Council have already paid their contribution directly into the bank, and we've received a pledge from Marple Carnival Committee, thank you, and a confirmed donation from at least one local resident.
In addition, we've just learnt that Stockport's Marple Area Committee were unable to consider our application for money from their flexibility budget, as this is not an appropriate use of these funds. To more than make amends, our six Local Councillors from North and South Marple Wards have put their hands in their own pockets and donated £10 each to the appeal. So thank you to Councillors Shan Alexander, Chris Baker, Andrew Bispham, Martin Candler, Chris Elwood and Mark Hunter for demonstrating their support for our idea. This is particularly fitting as it was local Councillor J.T. Pott who was the driving force behind Joe Goodwin's award in 1916.
We've had provisional discussions with local jewellers, A J Prags of Marple, on Market Street, about supplying a watch and they've agreed that in the event of it being purchased from them, they'll make their own contribution by way of a discount. We certainly favour this as we'd like to keep everything as local as possible.
Update 29 December 2003
We're please to announce that a bank account has now been set up with the Royal Bank of Scotland, in Market Street, for the purpose of collecting donations towards the Chris Finney Watch Appeal. Those of you who would like to contribute toward the purchase of an engraved gold watch, which will to be presented to Chris on behalf of the local community, can make your donations in the following ways:
By post
Cheques made payable to "C.Finney Watch Appeal" can be sent to:
The Marple Website
72 Woodville Drive
Marple
SK6 7QX
Directly into the bank
Either cash, or cheque (payable to "C.Finney Watch Appeal") over the counter at:
The Royal Bank of Scotland, Market Street, Marple
Please quote Sort Code 16-25-18 & Account Number 10094330
The opening balance of the account is £50, representing the contribution from The Marple Website / Marple Promotions. We'll keep visitors to the web site up to date with the account status as further donations are received.
As already explained below, we have firm pledges from Marple Business Forum for £250 and from Marple Community Council for £50. We hope that local businesses, community groups and individual residents will support this appeal and feel that it is a good thing to show that the local community is proud of Chris's achievement.
We are also pleased to announce that we have submitted an application to Stockport Council's Marple Area Committee asking if they will consider making a contribution to the appeal from their area flexibility budget. It has been confirmed that this will be on the agenda of the next Marple Area Committee meeting to be held at Marple Library, starting at 6.00 pm, on 14 January 2004. Peter will speak on behalf of the appeal and it would be great if lots of people attend to show their support.
Update 7 December 2003
Our suggestion below - that Marple should commemorate Chris Finney's bravery by presenting him with an engraved watch from the local community, recreating the Civic pride felt in 1916 when Joe Goodwin won his medal, and acknowledging the honour that Chris's achievements bring to Marple - has been well received.
We've had an excellent response from Marple Community Council, who've pledged the sum of £50, and an incredibly generous contribution of £250 from the Marple Business Forum, which was unanimously agreed by all its members. We're grateful to both these local organisations for the enthusiastic support they've given to our idea and the lead they've shown to the rest of the community.
Personal pledges have so far been given by two Marple citizens in the web site forum and our thanks go to these people too - it's important to know that individual members of the community support this, as well as local businesses and groups, and it doesn't matter how large or small a contribution individuals can make.
We've also been delighted to receive an indication of support for these proposals in the forum from Chris's parents, Jeff and Sharon Finney.
We've made arrangements to open an account with a local bank to hold these funds and we hope that people will be able to drop in and make their donations across the counter if they wish. We've been told that this should take no longer than a week or so to set up and will publish the account details as soon as they are available.
Should Marple bestow further honour on Trooper Chris Finney?
As highlighted by Marple Community Council, it was announced on 31 October 2003 that the George Cross, which along with the Victoria Cross is the nation's highest award for gallantry, had been awarded to Trooper Christopher Finney of the Blues and Royals for his outstanding courage during an incident in Iraq on 28 March 2003.
Chris Finney, aged 18 at the time of the incident, is the youngest military recipient of the George Cross. From Marple, near Stockport, he joined the Army in September 2000, attending the Army Foundation College in Harrogate. He joined the Household Cavalry Regiment at Windsor in January 2002, and the Iraq campaign was his first operational deployment.
Click here for full details of Trooper Finney's citation from the Ministry of Defence's web site.
Peter Clarke says.... "Reading of Chris Finney brought to mind a story which I had the pleasure of writing about in our Community News articles. This true story was of Private Joe Goodwin, who won a Distinguished Conduct Medal for his actions on the Western Front in 1916."
Click here to read the Joe Goodwin Story
"The community were so filled with pride that one of their own had brought this honour to Marple that they had a collection and presented Joe with a gold watch inscribed with the details. Both Mark and I feel that 'Civic pride' should not be something that is confined to the past century and that Trooper Finney's act is an event that we should mark in a similar way today."
"I know that Joe Goodwin's family still cherish his watch and are rightly proud of his award, would it not be fitting if today's residents of Marple were to mark Chris Finney's bravery by contributing to a similar presentation to him?"
We would like your views on the above, would you be willing to donate? If so The Marple Website would not only be willing to co-ordinate such an appeal for donations but also to put our money where our mouths are and make the first donation of £50.
Whether this actually happens depends on the response of today's Marple citizens. To voice your views, or to make a pledge, please follow this link to the forum, where you can have your say.

The photograph and introductory text on this page are © Crown Copyright 2003 and are acknowledged and reproduced in accordance with the instructions on the Ministry of Defence web site.