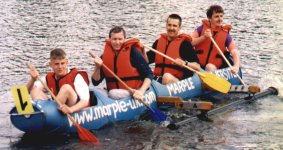 The 1999 Marple Raft Race, held on Sunday 20 June, was a great success and a good time was had by all involved, including an intrepid team entered by this web site. The weather was not too unkind and although there were a few short heavy showers, it was warm and the sun broke though just in time for the main race.
The first event, the under 13's Dingy Race, was won by the 'Blue Moon' team of Simon and Oliver from Marple Athletic Football Club. Runners up were 'Wet Willy', otherwise known as Mark and Darren, who were sponsored by the Hare and Hounds Public House.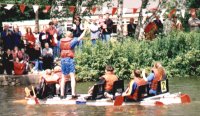 In the main race it was an easy victory for 'Contra-Flow' sponsored by Sykes Pumps Ltd. and it may be necessary to handicap this raft with a sea anchor next year. Second place went to the 'BRSC' Team representing Bredbury and Romiley Sailing Club in their sea-going raft. Third place was taken by the 'Arden Hackers' from the local firm Arden Software, based in Hawk Green. Sadly the Marple Website team trailed in a distant fourth and managed to capsize on reaching the finishing line. The water was warm but tasted awful!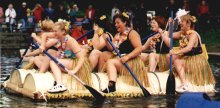 The fancy dress award was won by 'HMS Miss-Behaviour', a team representing this year's main charity benefactor, the Marie Curie Cancer Care Trust.
The Marple Fire Brigade entry was a shadow of former glory years, with the quickest raft disintegration in living memory (see below). Hopefully they will be shamed into a much better effort next year.
Music and entertainment was provided by JD and Compare Cliff Lockwood from Oldham, who can be contacted on 01942 256240 if anyone requires a similar service.