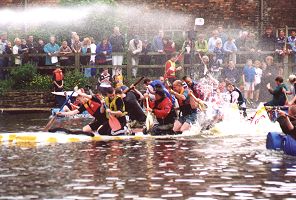 The 2001 New Mills, Marple and District Round Table Annual Raft Race took place on 17th June at Etherow Park. The event raised money for local charities and provided an afternoons entertainment for the large crowd that came to see it. The money raised this year was donated to the NSPCC's 'Full Stop' campaign.
The main race was won by a sleek new polystyrene raft paddled by staff from the Compstall Post Office, with Romiley ATC coming in second. The Round Table team managed to capsize their top-heavy raft after trying to ram the winners and eventually crossed the finish line upside-down! The junior race was won by Aran and Andrew in their inflatable.
The Deputy Mayor and Mayoress of Stockport, Councillor and Mrs. Colin Macallister and their children joined in the fun and the Deputy Mayor presented trophies to the winners.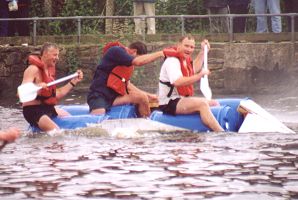 DJ Cliff Lockwood again provided music and entertainment, getting the crowd involved and making me do a solo Mexican wave because I was too busy with my camera when everyone else was doing it. There was also a bouncy castle for the children, crazy golf, Tombola, a cake stall and several exhibit stands from local groups. These included the NSPCC and Droyleston Metal Detecting Club, who had a fascinating display of objects which they had unearthed. As usual the fire service displayed a fire engine and gave the rafts a good soaking during the race.
One of the purposes of the day is to raise the publics' awareness of the Round Table movement, which raises money for mainly local children in need, and to encourage people to join them. The Round Table meet every other Tuesday and have a very varied and fun social calendar.
If anyone would like more information about the Round Table, get in touch with Raft Race organiser Chris Bowler on 07971 799068 or by e-mail at Chrispbowler@aol.com