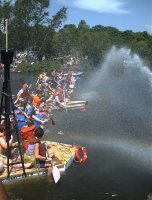 For the fourth year since taking over from the Fire Brigade, the Marple and District Round Table managed to surpass their previous achievements. This year, aided by the weather instead of hindered for once, they were able to put on an excellent event that was enjoyed by spectators and participants alike.
Entrants ranged from Scouts to Slimmers and Hippy Chicks to Web Browsers. A total of eleven rafts took part with separate events including the main race, a junior race, a scouts race and a Round Table Challenge between Marple and District and their counterparts from Glossop. With music and entertaining commentary from JD Cliff Lockwood there was plenty to keep the large crowd amused.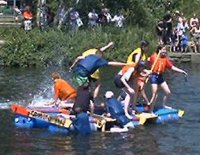 The main event was won by the 'Bredbury and Romiley Sailing Club' with a significant lead over the Scouts Team in second place. They where closely challenged by the Website Team who managed to improve on last year's fourth place. The Junior Race was won by the Jubilee Youth Club team.
In the Scout's Race two teams fought it out on identical rafts provided by last year's main race winners Sykes Pumps Ltd. This year they sportingly didn't enter as they are in a different league to the average rafter but still turned up to support the event. This race was won by 3rd Hazel Grove Scouts.
The Round Table Challenge was easily won by Marple and District. The Glossop Round Table Team didn't bring their own raft, so they borrowed the Marple Website craft for this head-to-head race. Being a team of rather generous proportions it didn't take the Glossop lads long to ship more water than advisable and make news headlines as 'another Dot.Com goes under'.

Fund raising stalls included a tom-bola, the 'Loo Game', crazy golf and for the children a roundabout and bouncy castle.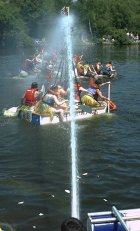 The event raised some £250 on the day, which will be topped up by The Round Table to around £500. These proceeds will all go to the "Tree House Appeal" at Stepping Hill Hospital, which is one of the Mayor's chosen charities. They are raising money for a sensory garden for visually impaired children.
As usual the Fire Brigade lent their support to the event by spraying water on any raft that came within range of their pump. Their entry in the race was however noticeable by it's absence. Can it be that their once never-say-die fighting spirit has finally been quashed following their sad demise in last year's event?
Organisation of this year's event was lead by Chris Bowler of The Marple & District Round Table. Chris has already confirmed that the 2001 race will be included on their calendar of future charity fund-raising events. If anyone is interesting in joining the Round Table and becoming involved in their fun and fund-raising work, get in touch with Chris on 0161 494 1926 or by e-mail at Chrispbowler@aol.com
If anyone would like to get in touch with JD and Compare Cliff Lockwood about providing music and entertainment, you can reach him on 01942 256240 or mobile 0378 052502.
Here are a few more pictures from the day below. In addition, the Round Table have provided a set of photographs taken by themselves which have been added to a their own Gallery. If anyone else who took photograph at the race has any good ones they would like to put on display, just get in touch.